One Photo Sums Up the U.S. and Israel's Relationship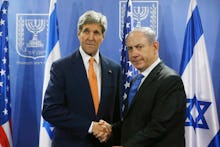 The news: The only thing worse than a useless meeting is a useless meeting and one incredibly cringe-worthy photo op.
After 16 days of fighting between Israel and Hamas militants, resulting in the deaths of nearly 700 Palestinians, 32 Israeli soldiers and 3 Israeli civilians, U.S. Secretary of State John Kerry and Israeli Prime Minister Benjamin Netanyahu met in Jerusalem on Wednesday to discuss a cease-fire with Netanyahu and Mahmoud Abbas, the president of the Palestinian Authority.
As the photo shows, the smiles were a bit forced.
Going viral: Of course, once the Twitterverse got a hold of the uncomfortable photo, the story became less about the actual meeting and more about the awkwardness of the two men forced to meet for diplomatic reasons.
What's the situation? Late Wednesday, the FAA lifted their two-day ban on U.S. airlines flying in and out of Ben Gurion International Airport near Tel Aviv, Israel, which is a positive step forward. But the Kerry and Netanyahu photo-op is not easily going to be brushed aside by the latest news.
Kerry wanted a "sustainable" way to end the fighting and move forward, while Netanyahu wanted to lessen the abilities of Hamas and their affiliates who continue to attack Israel. Kerry left the meeting claiming that progress was made in reaching a truce.
In any filter, though, this picture is proof of just how futile that meeting was going to be and how little has changed in its aftermath. A picture speaks a thousand words and in this case it speaks a thousand and one: ugh.