What's the Most Dangerous Place to Fly in the World? Check This Map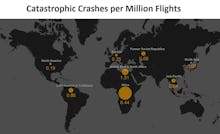 It's been a terrible week to fly.
First, Malaysian Airlines flight MH17 was shot down by pro-Russian separatists in Ukraine last Thursday. Then a TransAsia flight crashed into the ocean near Taiwan. And Thursday, an Air Algérie flight crashed in Mali.
If you're terrified by the news and anything like me, you're probably wondering if it's still safe to fly. Thankfully, if you're in the U.S., the numbers show you have little to worry about. The risk of dying by plane crash in the U.S. is just 1 in 45 million flights, according to MIT statistician Arnold Barnett.
But that's not the case for everyone.
The map below compares the risks of flying internationally by comparing airline operators in every region.
The result? Stay out of Africa if you want to avoid a catastrophic plane crash. You're 33 times more likely to crash if you fly a plane operated by an African airline than by a North American one, according to the International Air Transport Association (IATA).
Source: IATA 2013 Safety Report. Catastrophic crash rate equivalent to western-built jet hull loss rate between 2009 and 2013. Geography of crash determined by home region of operator.