23 Facts You Probably Didn't Know About 'Clueless'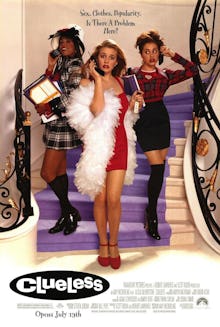 Clueless is more than just a cult classic — it's a time capsule to a thrilling place and time that doesn't exist anymore. From beepers to Cranberries CDs, the film captured the pop music and decadant lifestyle of the 1990's perfectly.
As we approach the film's 20th anniversary, (the film was released in 1995) it's time to reminisce on how the quintessential '90's teenage movie immortalized the Beverly Hills world of "as if" and "whatever." Sure, the movie — much like its protagonist, Cher Horowitz — may seem superficial, but there's a lot more to this comedy than just going to the mall. 
Here are some facts about Clueless that will make you a little less, well, clueless.
1. 'Clueless' was loosely based on an 1815 Jane Austen novel
Image Credit: MissWestEndGirl
Writer-director Amy Heckerling loosely based the film on the 1815 Jane Austen classic, Emma, after reading it in college. Much like Cher, Austen's Emma is a socialite who has a widowed father and enjoys matchmaking.
2. Director Amy Heckerling also made the quintessential 80's teen movie
Image Credit: Film.com
Clueless wasn't the first film Heckerling directed that hit the teenage consciousness right on the nose. In 1982, she directed the definitive 80's teen film, Fast Times at Ridgemont High, which was written by Cameron Crowe.
3. The film was originally pitched as a TV show
Image Credit: Gypsy Warrior
Before it became a movie, Clueless was pitched as a TV show called No Worries. Heckerling originally shopped it to Fox who wanted a TV show about teenagers, but not "the nerds." 
4. Reese Witherspoon auditioned for the role of Cher
Image Credit: Fanshare
Witherspoon auditioned for the part of Cher, but ultimately lost it to Silverstone. Things didn't turn out so bad for Witherspoon, however. She would go on to win an Academy Award in 2005's Walk The Line and play another famous blonde in 2001's Legally Blonde.
5. Actually a bunch of current A-listers were shot down for roles in the film
Image Credit: Huffington Post
Witherspoon wasn't the only current star to audition for a role in the film and not get it. Zooey Deschanel auditioned for Amber, Terrence Howard went for the role of Murray, and hip-hop artist Lauryn Hill almost played Dionne. 
6. Alicia Silverstone got the job thanks to her Aerosmith cameo
Anyone who watched MTV in the 90's knew Silverstone from her stint in Aerosmith's music videos. Heckerling was one of those people: "I saw the 'Cryin' video for Aerosmith and when Alicia gave the finger, I said, 'There's my girl.'"
7. And Silverstone was only 18 when filming started for 'Clueless'
Image Credit: Wordpress
The actress was just 18 when production started, making her not much older than her character in the film. However, she wasn't the youngest in the cast. Her co-star Brittany Murphy was 17.
8. That being said, many in the cast weren't even close to being teenagers
Image Credit: Wordpress
Paul Rudd, Stacey Dash and Donald Faison were all in their twenties when the production of the film got underway. In fact, Dash (who plays a high school kid in the film) was a 27-year-old mother.
9. Heckerling researched the film by hanging out at an actual Beverly Hills high school
Image Credit: Culture Craver
Heckerling sat in on high school classes in Los Angeles to research how teenagers actually acted. "I hung out at Beverly Hills High School for research," Heckerling told EW. "The one thing I observed was these girls in a constant state of grooming."
10. Alicia Silverstone was the one who didn't know how to pronounce "Haitians"
Image Credit: MTV
During the debate scene when Cher mispronounces "Haitians" (as "Hait-i-ans") it was actually Silverstone who mispronounced the word. Heckerling kept it in the movie because it was just too Cher.
11. Silverstone – unlike Cher – knew nothing about fashion
Image Credit: Girl With No Job
"I didn't understand fashion at all," Silverstone later admitted. "I had to do 60 changes … and I was so tired and I had to keep having fittings so I kind of hated them. I hated the clothes. I just didn't get it."
12. The clothes in the film required a lot of plaid ... Seriously, a lot of plaid.
Image Credit: Glamour
Costume designer Mona May used 53 different kinds of plaid in the film to make up all of the crazy outfits for Cher and her friends. As far as flannel, the number could be infinite.
13. Cher's house isn't actually in Beverly Hills
Image Credit: Blogspot
Even though Cher gets upset over people thinking she lives below Sunset, the Horowitz house used in the film is not located in Beverly Hills. The mansion's address is actually in Encino, a suburb in the Valley.
14. The house party in the Valley was based on an impromptu party at the director's home
Image Credit: Blogspot
Speaking of the Valley, the party that Cher, Tai and Dionne go to in the Valley was actually based on an impromptu party that a friend had at Heckerling's house. While observing the party Heckerling learned new things like the game "Suck and Blow" which was later used in the movie.
15. The LA freeway scene came from the director's fear of driving on the freeway
The scene in which Cher, Murray and Dionne accidentally get on the LA freeway was inspired by Heckerling's real life fear. "I always have to ashamedly say, 'I don't drive on the freeway,'" Heckerling admitted. "In L.A. it's like a physical handicap. I wanted to make fun of that."
16. The lead singer of a band in the film is now the announcer for 'Jimmy Kimmel Live'
Image Credit: Boston Magazine
The 90's ska band The Mighty Mighty Bosstones played during one of the LA parties Cher attends in the film. However, what many may not realize is that the lead singer of the band, Dicky Barrett, is now the announcer for Jimmy Kimmel Live.
17. The film has a few continuity glitches
In Cher's disastrous driving test, her Jeep's passenger side mirror gets knocked off when she hits a parked car. Yet, when she turns the corner it reappears. Magical Jeep or movie mistake? You be the judge.
18. Speaking of driving, Donald Faison had to get a ride from Silverstone after his 21st birthday
Image Credit: Tumblr
Since Faison had his 21st birthday a week before the release of the film, cast-mates Rudd, Silverstone and Breckin Meyer took him out for his first legal drink. "I don't know how I got home that night," he said. "I think Alicia drove me home."
19. The director of the film made a cameo during the bouquet toss at the end of the film
Image Credit: Movpins
Amy Heckerling can be found all the way to the right fiercely fighting the other girls for the wedding flowers. Unfortunately for Heckerling, Silverstone's Cher ultimately walks away with the bouquet.
20. The film was a sleeper hit that spawned a short-lived TV show
The $12 million film was a surprise hit in the summer of 1995 when it made $10 million its first weekend. It would eventually go on to make $56 million, and it's popularity lead to a short lived (three seasons) TV show.
21. 'Clueless' may be coming to Broadway
Image Credit: Ryanseacrest.com
Due to the film's staying power, Heckerling is putting together a possible Broadway musical based on the film. Katy Perry has actually expressed interested in playing the lead role.
22. The actress who played Dionne is now a pundit on Fox News
Stacey Dash, the actress who played Dionne, joined Fox News as a special contributor. Dash, who was a big supporter of Mitt Romney, joined the cable news network earlier this month.
23. A 'Clueless' sequel isn't out of the question
Image Credit: Tumblr/EW
While it's pretty unlikely that cast members like Silverstone rejoin the team, never count out the possibility of a Clueless sequel. "I'm game to whatever Amy has in store. I think that time has passed, though," Silverstone told the LA Times. "I don't even know what Cher would be up to these days."