A Famous Rowing Team Came Up With a Stimulating Way to Fight Homophobia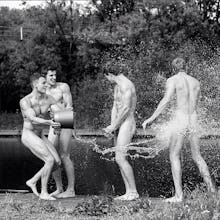 Ladies and gents, your most intimate prayers have been answered: The infamously hot Warwick rowing team is back, and their aversion to clothes is more apparent than ever.
After raising more than £100, 000 with their original 2009 calendar, the team is continuing its tradition. This latest iteration is just as risqué as you hoped it would be, for the low price of approximately $17.
If you're starting to feel guilty or uncomfortable, don't — it's for a good cause. Since 2012, the team has been donating portions of their profits to promote tolerance. This year, they will be using money raised from calendar and merchandise sales to fund Sports Allies, an organization founded by the team that uses education to fight homophobia.
Member Laurence Hulse told E! Online that the team has been blown away by the responses to their work, noting that they are proud to be able to use some of the money to pay it forward.
"I've had the chance to meet people from the LGBT community that I might not otherwise have met," Hulse, a 2014 centerfold, told Out Sports. "I've been able to hear about their experiences of being bullied, and struggling to come to terms with their sexuality. I hope that this is something our calendars and our films can help to address. Not just by funding our outreach work, but by making a statement. We don't mind who enjoys the calendars and films. We have fun creating them and we want everyone to have fun looking at them. It's all good!"
That means the calendar is the equivalent of that fat-free fro-yo: It's so guilt-free, it's almost good for you. And it's lucrative: so far, the calendars have raised $42,000 for Sport Allies, according to Out Sports. 
In an effort to save you some time, here's a selection of the most butt-quisite and bice-rific stills from their crowd-funding video. 
You're welcome. 
Image Credit (all): Warwick Rowers
Can't wait for the calendar to come out? Check out the team's Instagram account to soothe your Warwick rowing team bun-cravings.
Now that you're feeling inhibited and impulsive, why not splurge on this crowd-funding campaign? According to the Warwick team's website, you'll receive a free wristband with every non-digital order and the first person to donate £1,000 will get a "complimentary signed limited edition print of our very first frontal art nude."
It's a win-win.
What do you think about this campaign? Let me know on Twitter and Facebook.