Tina Fey and Rachel Dratch's 1999 Two-Woman Comedy Show Is All Kinds of Genius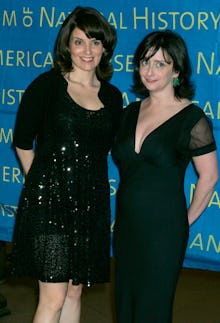 Want to know what Tina Fey and Rachel Dratch were doing back when they were our age before they hit the big time? They were being completely hilarious.
A 1999 video of the two performing at Chicago's Second City surfaced, showing the comediennes performing in their two-woman show Dratch & Fey. The brilliant early work from these two is inspiration for artists to keep chipping way at whatever they're working on. You never know where you'll wind up. 
The sketch show focuses predominantly on female tropes in absurd situations: A tired housewife wants a philosophical boy to mow her lawn; a pair of conjoined, bubbly country singers discuss their difficult careers; and a peppy, community college teacher is forced to combine her "self-defense for women" and "introduction to flirting" classes due to low enrolment. In each, stereotypes are played up, and then dropped at the least suspecting moment for a dollop of dark comedy.
The show became a critically-acclaimed hit and it moved from Second City in Chicago to the Upright Citizens Brigade Theatre in New York. It has become a mythical cult hit among comedy geeks, and this is the first time the video has been widely available to the public.
The quality of the video may not be great, but the comedy is top notch. So take an hour out this weekend as a reminder that you don't have to be on national TV to prove to everybody how talented you are. Use Dratch and Fey as your spirit guides.