Intense Photos Capture the True Devastation of the Crisis in Gaza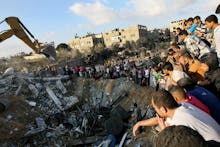 The news: Today marked a brief lull in the violence as Israel and Hamas agreed to a 12 hour ceasefire. A Palestinian official says more than 1,000 Palestinians have been killed since the conflict began. The break in fighting was an occasion for Gazans to survey the damage and get to banks and grocery stores. 
Washington Post correspondent William Booth has been covering the new conflagration between Israel and Gaza, and his Twitter feed has the photos to prove it. Here's a selection of the photos he took during the brief cease-fire. 
Some focus on the destruction of the homes and infrastructure:
While others highlight the toll the whole ordeal can take on Gazans:
And then there are the residents trying to continue with everyday life:
The cease-fire: Secretary of State John Kerry is in Paris right now attempting to negotiate a longer cease-fire. While reports came out that Israel had rejected his latest proposal, Kerry pushed back, saying there hasn't been a formal proposal offered yet.
The toll: Whether or not Kerry can help hammer out a longer peace agreement, the conflict has already led to the loss of more than 1,000 lives, many of whom were Gazan civilians.
To avoid more bloodshed, residents are hoping a longer agreement can be reached. "We are looking for a long cease-fire, not only 12 hours," Gaza resident Mohammad Abu Shaaban told Fox News. "We hope the cease-fire will continue and not to return back to the killing and destruction."
It's enough to make you think that The Onion might be analyzing the situation best.