Here Are the New Faces You'll Freak Over When 'Game of Thrones' Kills Them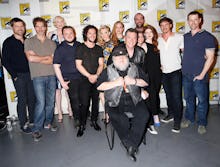 Season five of Game of Thrones is still months away, but that doesn't mean it's too early to start getting excited about the next installment in this epic series. Luckily, we just got out first taste of what's in store for the next season.
During this week's Game of Thrones panel at San Diego Comic-Con, we learned a whole lot, including the names of a slew of new actors joining the already dizzyingly massive cast. They're all introduced in the video below. 
Here's the full line-up:
1. Alexander Siddig as Doran Martell. Brother of the now-dead Oberyn Martell. Father of Trystane. Pretty important guy in Dorne.
2. Toby Sebastian as Trystane Martell. Son of Doran, nephew of Oberyn and betrothed to Myrcella Baratheon.
3. Nell Tiger Free as Myrcella Baratheon. Daughter of Cersei Lannister and the late king Robert Baratheon, (a.k.a. Cersie and Jamie Lannister's daughter). Tyrion sent her to Dorne in season two to protect her from the coming war and to strengthen ties between King's Landing and Dorne.
4. DeObia Oparei as Areo Hotah. Captain of the guard for Prince Doran.
5. Enzo Cilenti as Yezzan. He will cross paths with Danaerys over slave-trade matters.
6. Keisha Castle-Hughes as Obara Sand. Sand Snake. "Sand" is the surname given to bastards who are born in the southern regions like Dorne. (Similar to how "Snow" was the surname given to bastards like Jon and Ramsay.) 
7. Jessica Henwick as Nymeria Sand. Sand Snake.
8. Rosabell Laurenti Sellers as Tyene Sand. Sand Snake. Tyene, along with Nymeria and Obara, are all Oberyn's illegitimate daughters. 
9. Jonathan Pryce as High Sparrow. Religious leader in King's Landing. 
There's a few heavy hitters in there, including Oscar nominee Keisha Castle-Hughes, best known for Whale Rider, and Jonathan Pryce, known for his work in Evita, Tomorrow Never Dies and Pirates of the Caribbean.
And if that wasn't enough excitement for you, HBO also released this totally awesome Season Four blooper reel:
Which finally showed us where this amazing GIF actually came from.
So yeah, everyone's pretty excited: