5 Huge Human Rights Tragedies That You Can Help Stop Right Now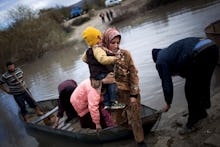 The fight is still on to #BringBackOurGirls 100 days later.
More than 200 Nigerian girls were kidnapped by Islamist militant group Boko Haram back in May, grabbing attention all across the world.
It led to the #BringBackOurGirls, which called for the return of the missing young women. More than 1 million people signed an online petition in support of the campaign. The activism continues as 7,000 tweets embed the hashtag each week.
But what is the actual impact of a tweet?
Online activism has drawn criticism for making a lot of noise without the ability to create real change. But charges of slacktivism aren't always fair: A robust online conversation can educate and inspire change. 
So how do we actually impact the situations that garner our outrage online? Your best bet is to donate to a cause, but with so many campaigns out there, it is sometimes too difficult to figure out which will actually make a meaningful change. 
Here are five human rights tragedies where you might be able to actually make a difference:
1. Syria's growing refugee population
It's a civil war that seems to never end as 170,000 people have been added to Syria's ever-growing death toll. 
And the violence between government forces and various groups have pushed 6.5 million Syrians to leave their homes to settle in internal makeshift camps. Another 2.5 million have crossed borders to Lebanon, Egypt, Turkey, Jordan and Iraq.
The Zaatari camp in Jordan is the second largest refugee camp in the world with more than 120,000 people. Given its population, it is now Jordan's fourth largest city.
It's a complex situation — but there's still something that you can do.
The United Nations Refugee Agency is struggling to make ends meet in its Syria efforts. Donating would support its treacherous aid trips into Syria and its management of numerous camps with tents and survival kits. 
Contributing to CARE would fund the refugee camps it helps run in Jordan. They also give refugees blankets, fuel and more.
Donating to Concern Worldwide would pay for pool testers and purification tablets for clean water.
2. The alarming spread of Ebola
The Ebola virus has a grave mortality rate of up to 90%.
It is deemed the worst outbreak in history, according to the World Health Organization.
More than 1,000 are infected, and 600 are dead in Guinea, Liberia and Sierra Leone thus far. The situation is so dire that even a few doctors have been affected.
Charging the fight against the virus is Samaritarian's Purse. Working with the government in Liberia, they are managing three patient centers with dozens of beds and have brought 10 tons of supplies.
Donating to their efforts would support medical support for their teams and local doctors in Liberia, as well as, needed public educational campaigns, equipment and supplies.
Doctors Without Borders also works in other infected countries. Contributing to them would fund their efforts at some of the 60 outbreak sites with beds, equipment and doctor training.
3. The struggle for survival in war-torn Iraq
The targeting of minorities, including Christians, Shiite Muslims and others by Islamic State militants is posing a huge humanitarian crisis in Iraq. It's led to 2,400 deaths, and people are scrambling for safety — more than 2 million have fled their homes.
Refugees are just one of the many human rights troubles faced by a divided Iraq that continues to grapple with a difficult reality after the U.S-led invasion in 2003.
United Nations' children's rights and emergency relief program, UNICEF, is focusing their efforts to aid the young population in Iraq. Donating to their program would provide drinking water, hygiene kits to refugee families. Just for the kids, money goes to recreational toys.
Women for Women International is also working with Iraqi women to find peace in war by funding emotional support help and job-skills campaigns.
4. Innocent children and families in danger in Gaza
For more than 20 days, the bombardment in Israel's operation in Gaza has killed over 1,000 people in Gaza.
According to Unicef, 218 children have been killed in the latest operation. While the mounting death toll has meant a long list of heartbreaking stories, one particularly outrageous story involved an Israeli missile killing four innocent children playing on one of Gaza's beaches. 
With no end in sight to the operation, the bombardment of the strip has certainly created a desperate human rights situation. 
Save the Children has helped 1,300 families providing water, shelter, medical support and psychosocial programs. Texting "DONATE" to 20222 will give $10 to support their efforts.
Groups such as Mind Body Medicine and Seeds of Peace are working with Palestinians and Israelis to forge better and peaceful relations through sessions, meetings and camps.
5. Horrifying sectarian violence in the Central African Republic
The horrific sectarian violence in the Central African Republic has taken a pause with a debated ceasefire last week.
But the destruction has been done.
Anarchy spans the country as a Christian militia targets Muslims after a separate Muslim militia performed a 2013 coup. Up to 1 million have left their homes with tens of thousands dead.
Working on the ground is Save the Children, an organization working to raise international awareness on the situation in CAR. Donating to their efforts would fund clinics and hospitals. The money would also support "child protection spaces" in the capital Bangui.
MercyCorps is also present in CAR communities. The basics of food, water and shelter are gravely needed and donations provide just that.