19 Photos That Capture the Beauty of Eid Around the World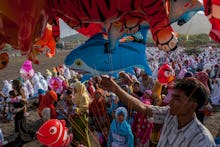 Eid Mubarak. Selamat hari Raya. Happy Eid.
Celebrated with different, local greetings, traditions and festivities, Eid al-Fitr marks the end of Ramadan, a month where more than 1 billion Muslims all over the world fast from dawn until sunset. 
The "festival of the breaking of the fast" is based on the lunar calendar, and begins with the sighting of the new moon. This results in different start dates worldwide, though many Muslim countries follow the dates set by Saudi Arabia, home of the holy Islamic sites of Mecca and Medina. This year, the kingdom announced that Eid would begin on Monday. 
With Islam practiced in many countries across the world, every country, culture and community celebrates the normally three-day observance differently. 
In many Muslim countries, Eid celebrations are a national holiday and can continue for an entire week. In Western countries, many Muslims tend to take a day or two off work to enjoy the occasion with their families. 
From sheer korma and dolma to ketaput and biryani, the vibrant, mouth-watering menu that often comes with Eid highlights just how culturally diverse this beautiful holiday has become. 
But despite some regional differences, the holiday still brings friends and family together to share the joy of decorating homes, preparing special delicacies, wearing new clothes, giving gifts, spending time with loves ones and paying respect those who have passed on.
Here are 19 photos that show what Eid really looks like:
1. Ankara, Turkey
2. Juba, South Sudan
3. Mumbai, India
4. Tuzla, Bosnia
5. Aleppo, Syria
6. London, U.K.
7. Yogyakarta, Indonesia
8. Gaza City, Gaza
9. Moscow, Russia
10. Baghdad, Iraq
11. Pristina, Kosovo
12. Istanbul, Turkey
13. Surabaya, Indonesia
14. Narathiwat, Thailand
15. Yogyakarta, Indonesia
16. Karachi, Pakistan
17. Sanaa, Yemen
18. Lisbon, Portugal
19. Cairo, Egypt