7 European Colleges as Good as the Ivy League — and Cheaper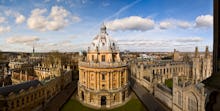 Going to college these days in the U.S. is the most expensive it's ever been and yet the cost of not going is also higher than ever — Pew found college graduated millennials earn, on average, $17,500 more annually than their contemporaries with less education.
Ivy League schools sit at the top of the college ladder in terms of both fees and prestige: Going to Harvard University is likely set you back a cool $68,050 a year, according to the school's own estimates. Despite the prestige, an increasing number of college grads are struggling to meet their loan repayments, as grant bodies and the job market fail to match the rising costs. And the culture of debt associated with college in the U.S. has been widely criticized.
So the system has screwed you over really, hasn't it, ambitious 17-year-old with an average family income? Damned if you do, damned if you don't.
So what's a high school senior to do? As is so often is the case, the answer may lie outside of these United States. Most in European countries have a "university" fee system that ask for much less blood that the Ivy League, but a select few institutions can also match them in terms of world-class professors, research and prestige.
The following schools will give you a lot more bang for your buck. 
1. University of Cambridge, England
Jostling each year at the top of the British rankings with rival the University of Oxford, Cambridge is a historic research university.
U.S. undergrads will pay fees of $25,594 for humanities degrees, which are traditionally the best in the country. Cambridge is traditionally more liberal than Oxford.
Cambridge has an alumni network to rival any Ivy League school and between the small class sizes and beautiful old town, quality of life is high.
2. Freie Universität, Germany
You know all those cool kids you've heard about packing up and moving to Berlin in the last couple of years? Chances are they've found themselves at Freie Universität. The university doesn't charge tuition fees, but instead what they call "semester fees and contributions."
That means only hundreds of Euros per semester, rather than the thousands. Yep, the hundreds.
It's a great research university with a prerequisite German language ability. Occupational hazards include getting a bit too into the Berlin party scene.
3. University of Oxford, England
Oxford tied with Harvard for second-best university in the world in the 2013-14 international rankings. Studying for a B.A. in law in the "city of dreaming spires" for three (or four) years costs $35,928 a year. Oxford boasts one-on-one classes with professors and one of the best libraries in the world, the Bodleian.
It may cost you to fly over for the interview, but Oxford is one of the most beautiful and ridiculously English cities in the U.K.
4. ETH Zürich, Switzerland
This university prides itself on groundbreaking research in the natural sciences and technology and implementing its results directly into practice. It has a healthy international student body — there are more than 18,000 students enrolled from over 110 countries. A proficient level of German is necessary for their undergraduate degrees, which will cost a maximum $28,759.
Founded in 1855, university buildings are a mix of old and brand-new architecture, and the campus claims to be the size of some Swiss towns, which isn't necessarily saying much.
5. The Sorbonne, France
The Sorbonne is one of the oldest universities in the world and certainly one of the most romanticized. Today, it is part of an enormous academic institution that has sprawled across Paris and swallows up undergrads into large lecture halls.
The Latin Quarter Sorbonne is dedicated to literature, languages, the arts and humanities and is located on the original medieval foundations. Fees should be enquired about on a case-by-case basis, but France's state-subsidized universities charge three figures per semester, not four. Plus you get to live in Paris. Duh.
6. London School of Economics, England
This university should really be the world school of economics. The London School of Economics and Political Science is one of London's most international universities, which is a feat in itself. There are currently 859 American students at the LSE.
To earn an undergraduate degree in the schoo's prestigious economics or political science degrees American students are charged $27,854 a year. LSE's alumni network rivals the Ivy League and it is the go-to school for internationally focused study. The website has a handy section on what American students should expect.
7. Karolinska Institute, Sweden
Studying medicine is especially eye-wateringly expensive degrees in the U.S., so the prestigious Korlainska Institute in Stockholm could be a more affordable option. Their biomedicine degree is taught in English and in true Scandinavian style is free to EU students. Coming from the U.S., the full program will cost $79,041.
The university favors interactive teaching with an emphasis on representing students' views and a non-hierarchical structure.