This Man Is the Most Feared Fighter on the Planet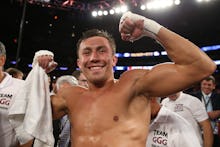 Gennady Gennadyevich Golovkin doesn't look the part of middleweight terror. The Kazakh with the boyish haircut, disarming smile and humble demeanor is not the type you'd cross the street to avoid at night.
But make no mistake: Golovkin is the most feared fighter on the planet today.
On Saturday, the heavy-handed titleholder who goes by Triple G made his Madison Square Garden debut before a crowd expecting the sort of fireworks for which he's become famous. Ordinarily, that might be a recipe for disappointment. GGG, however, is no ordinary fighter. 
Golovkin needed fewer than three rounds to stop Australia's Daniel Geale and raise his record to 30-0 with 27 knockouts. He's now finished 17 straight opponents inside the distance, a streak that extends back to an eight-round decision during the Bush administration. 
The fight, brief as it was, conformed to a now-familiar pattern. Golovkin found range early with his ramrod jab and stalked Geale around the ring, cutting off all avenues of escape with educated footwork. He floored Geale with a straight right in the second round, leaving the Australian in a struggle just to stay in the fight.
Then, a moment of magic: Geale, who had decided his only chance was to open up and test Golovkin's chin, managed to connect with a counter right. The Aussie's best punch of the night detonated squarely on target, but Golovkin had already begun winding up with a right hand of his own and ...
... it was goodnight Irene.
For a sport with an alleged problem developing new superstars, Golovkin's emergence couldn't have come at a better time. Here are five reasons why GGG is just what boxing needs, right when it needs it.
He's a one-man wrecking crew.
Golovkin's knockout percentage (90.0%) is the highest in the history of the middleweight division. His handlers claim he's never even been knocked down in more than 375 fights, counting both amateur and professional bouts. Yet nearly as impressive as Golovkin's string of destructive outcomes is the process itself. Not since the salad days of Mike Tyson have boxing fans witnessed this blend of footwork, ring generalship and weapons-grade power in both hands. If fighters are avatars for wills, no one today is more effective at sapping an opponent's desire to continue. When Geale connected with his best shot of the night and crumbled to the canvas like ash, you knew the fight was finished.
Image Credit: Lauren Caulk/Special to Mic
This is no hype job.
The undressing of boxing's hotshot newcomer is a tradition as old as the sport itself. One recent example is Seth Mitchell, the former Michigan State linebacker breathlessly touted by Golden Boy Promotions as the next great American heavyweight, whose capitulation at the hands of fringe contender Johnathon Banks (and subsequently Chris Arreola, inside one round) was as conclusive as it was predictable.
The doubters were many when Golovkin made his debut on American soil less than two years ago, a YouTube sensation unknown to all but the most hardcore fans. But with each devastating performance, the naysayers grow fewer and the skepticism recedes. If anything, the hype train gained steam on Saturday night. At 32, Golovkin has not only emerged as the most fearsome middleweight in the sport, he's thrust himself into the pound-for-pound conversation while drawing straightfaced comparisons to such all-time iconic middleweights as Bernard Hopkins, Marvin Hagler and Carlos Monzon.
Image Credit: Lauren Caulk/Special to Mic
The sky is the limit.
Golovkin holds the WBA's piece of the fractured middleweight title. Though few doubt GGG is the most dangerous 160-pounder in the world, the recognized champion of the division is Miguel Cotto, the former 140-, 147- and 154-pound champion who captured the WBC title from a shopworn Sergio Martinez in June. After Saturday's win, Golovkin called for a unification bout with Cotto.
Which makes perfect sense: Cotto, the sport's third biggest draw after Floyd Mayweather and Manny Pacquiao, has sold more than 100,000 tickets in nine fights at Madison Square Garden. Golovkin, who fought twice in the Garden's smaller theater space before Saturday's arena debut, is now MSG's second biggest draw after the Puerto Rican idol. A showdown between the venue's two most notable tenants is a no-brainer, though many believe Cotto is in no hurry to face a bogeyman like Golovkin when he can make similar money against lighter touches.
Regardless of who's next, Golovkin has become a can't-miss property — just ask Donald Trump, who was at ringside — and not even the sport's biggest names will be able to avoid him much longer.
Image Credit: Lauren Caulk/Special to Mic
He's got personality. Personality goes a long way.
A timeworn rule of the promotional business is a fighter needs to learn English to become a star. Golovkin's ESL has shown marked improvement over the past two years, but he's proof positive that business fluency is not a prerequisite for the nominal title of Best Interview in Boxing. Case in point: Saturday's in-ring exchange with HBO's Max Kellerman.
For those put off by Mayweather's endless braggadocio, the highly likeable and humble Golovkin is a refreshing change of pace. "This is fight, I love fight," he said, earnestly and without an ounce of artifice. "You need show? You need amazing show? Just call me."
Time is on his side.
Another fighter who was 30-0 with 27 KOs after 30 paying fights? Mike Tyson. But unlike the fast-living Kid Dynamite, the grounded Golovkin's deep amateur background and strong support system, from promoter Tom Loeffler to trainer Abel Sanchez to wife Alina and son Vadim, suggest a product that's built to last. After Saturday night's fight, the GGG is the fastest growing brand in boxing — and it might not be long before he's a household name.
Image Credit: Lauren Caulk/Special to Mic