Virginia Court Strikes Down Same-Sex Marriage Ban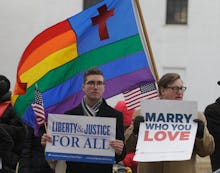 The Virginia Appeals Court struck down Virginia's constitutional ban on same-sex marriage in a 2-1 vote on Monday.
The Fourth Circuit Court upheld a February ruling by a lower federal court on the ban, ruling that "the fundamental right to marriage includes a right to same-sex marriage and that therefore Virginia's marriage laws must be reviewed under strict scrutiny." The Times-Dispatch notes that this ruling marks the second time an appeals level court has ruled on state marriage bans following the Supreme Court's historic ruling on the Defense of Marriage Act (DOMA) in June 2013.
"Because there is no fundamental right to same-sex marriage and there are rational reasons for not recognizing it, just as there are rational reasons for recognizing it, I conclude that we, in the Third Branch, must allow the States to enact legislation on the subject in accordance with their political processes," wrote Judge Henry Floyd in the ruling. "The U.S. Constitution does not, in my judgment, restrict the States' policy choices on this issue. If given the choice, some States will surely recognize same-sex marriage and some will surely not. But that is, to be sure, the beauty of federalism."
Federal judges in other states such as Utah, Colorado, Nevada and Wisconsin have struck down similar state bans in the past year. Same-sex marriage is permitted in nineteen states and the District of Columbia.
Image Credit: Vox
This story has been updated.