This Amazing Boys A Capella Group Just Got a Huge Boost From Shakira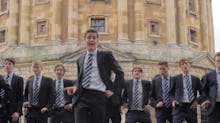 Unless you're "Weird Al" Yankovic, it's hard to believe that some pop star might see your parody of their song and fall in love with it. But that's exactly what happened to Oxford University's all-male a capella group, Out of the Blue, when they covered a few Shakira hits — including "Hips Don't Lie" — in a brilliant medley.
The group, who recorded the video in a day, was more than a little surprised when they heard from the singer. Shakira had fallen in love with it and posted the video on her official Twitter and Facebook pages, spreading it to her millions of fans and catapulting the boys' singing group to viral fame.
"We couldn't believe we were tweeted by Shakira," Joshua Barr, the group's president, told the Guardian. "On the Facebook post she signed it off personally so we knew she had actually watched the video, which is amazing."
The singing group, which originally gained notoriety on Britain's Got Talent in 2011, have previously dropped a capella covers of huge hits by Lady Gaga and Justin Timberlake but to no fanfare. Shakira just gave Out of the Blue their first, well-deserved shot at fame. Their Twitter account has been blowing up with shout-outs in multiple languages from all over the world.
For once, Internet fame is bestowed upon the talented, and not just someone who got hit in the nuts while their friend was filming.