A New Bill Is Going to Make Air Travel More Exasperating Than Ever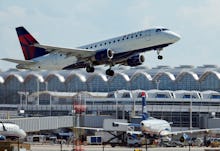 You're reading the news online when an ad catches your eye: Roundtrip flights from New York to Sheboygan for just $99! You've always wanted to visit Sheboygan's famous bratwurst festival, so you snap up a ticket. But it turns out the actual price is way more expensive — and you have Congress to thank.
That kind of false advertising — not including taxes and fees in publicized prices — was outlawed by the Federal Aviation Administration back in 2012. After striking out in court, airlines turned to their friends in Congress to fight for their right to pretend their prices are low.
Luckily for the airlines, they got the hilariously named "Transparent Airfares Act of 2014" passed in the House of Representatives Monday. The bill would repeal those FAA regulations and let airlines hide all those other fees.
The legislation:
"In general—It shall not be an unfair or deceptive practice under subsection (a) for a covered entity to state in an advertisement or solicitation for passenger air transportation the base airfare for the air transportation if the covered entity clearly and separately discloses—(A) the government-imposed taxes and fees associated with the air transportation; and(B) the total cost of the air transportation."
That's the pertinent portion of the bill, which deems advertising just the base price as a fair business practice. Keep in mind that taxes and fees add a ton to plane tickets — a typical $300 ticket includes $63 in taxes and fees, according to Condé Nast Traveler. If this bill passes, the airline could advertise that as a $237 flight.
The bill does say that the full price must be "disclosed in the advertisement or solicitation." So expect a lot of asterisked numbers if this thing goes through. Keep an eye on the fine print.
The lobbying: The bill had bipartisan support in the House, with 51 sponsors from both sides of the aisle. Consumerist points out that Rep. Bill Shuster (R-Pa.), who introduced the bill, is a darling of the airline industry. His campaign committee's number one donor is United Continental, while Atlas Air, Airlines for America and Delta are all in the top 15.
Shuster framed the bill as a government transparency issue, saying that by advertising the full price of airline tickets to consumers, the tax amount is being hidden. "It is not fair, it is not right for the government to hide those fees," he told USA Today. "It's a fair and prudent piece of legislation."
Image Credit: Pro-bill House Transportation Committee advertising
When your ticket prices jump up by 20% as you try to buy them, you can decide what's actually being hidden.