The Situation in Gaza Has Taken a Horrifying Turn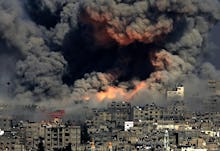 The news: Israeli units attacked Gaza's only power station, burning large sections of it to the ground. It made for a dramatic picture in Gaza, one that some on social media said looked like actual hell on Earth.
The bombing appears to have cut off both electricity and water sanitation for most of the Palestinian territory's 1.8 million residents. According to the Washington Post, the damage will take months to repair and has left almost all of Gaza, including some hospitals, without utility access. Six of eight remaining power connections from Israel have been severed by the fighting.
But that's not all. Later, an Israeli tank attack on a UN school killed at least 15 Palestinians, even though Gaza residents were told to seek safety there. Israel accuses Hamas of using schools as bases to launch rockets.
Here's what you need to know: The death toll in the Gaza Strip soared past 1,200 Tuesday, with whole neighborhoods reduced to rubble as constant bombing killed as many as 100 Palestinians. As Israeli Prime Minister Benjamin Netanyahu announced that the Israel Defence Force's campaign in Gaza would be "prolonged," hinting that the Israeli invasion has taken on new objectives, Gazans cowered in fear from some of the most intense bombings yet seen in the area. 
The United Nations estimates that 70-80% of the dead are civilians. An additional 7,000 have been wounded. In short, the situation in Gaza is getting much worse very quickly.
Dozens of other attacks ravaged whole neighborhoods, with ferocious strikes targeting senior Hamas political leader Ismail Haniyeh's residence, Hamas' al-Aqsa TV headquarters, a finance building and several local mayors' homes. Gaza City's al-Amin Mohammed Mosque, which sits across the street from a house owned by Palestinian Authority President Mahmoud Abbas, was blown apart. Hamas and Israel blamed each other for shells which exploded in Jabaliya refugee camp, killing at least 10 people.
Bombs also fell near areas where international journalists were housed.
A time lapse video appears to show an entire Gaza neighborhood totally annihilated after an hour of sustained airstrikes.
On the Israeli side, the threat of rockets sent some in Tel Aviv scrambling for bomb shelters. Bands of Hamas militants are somehow still finding their way through tunnels leading under the border. Five Israeli soldiers were killed in gun battles with one such infiltration force, bringing the total number of soldiers dead to 53. The IDF's official propaganda channel has turned up the rhetoric, offering prayers to slain heroes and providing daily updates on the number of targets bombed.
Meanwhile, Hamas distributed some chilling propaganda of its own: A video of the tunnel attack, which appears to show the deaths of some of the five soldiers killed.
A ceasefire has so far failed to develop, with both Hamas and Israel blaming each other.
Why you should care: While the rest of the world appears pretty shocked by the images coming out of Gaza, most Israelis either aren't shocked or accept them as the cost of dismantling Hamas. The Washington Post reports between 87% and 95% of Israeli Jews generally support continuing the operation, while four out of five oppose a unilateral withdrawal. Hamas' merry band of fanatics remains obstinate despite horrifying losses in manpower and resources. As of now there doesn't seem to be a short-term impetus for either side to change the course of the ongoing conflict, which means continued devastation of this scale is sadly likely.