This Response to That Cosmo Sex Article Should Be Required Reading for the Media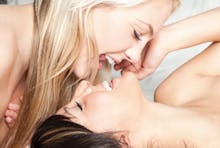 Poor Cosmo. The popular glossy magazine (and website) really tried to appeal to its non-heterosexual sisters with its recent illustrated gallery depicting "28 Mind-Blowing Lesbian Sex Positions." Not surprisingly, the piece has been getting a lot of buzz — Slate columnist June Thomas called it "good for the gays" — but let's just take a deep breath. While the gesture represents a significant moment for lesbian representation in culture, the piece is far from "mind-blowing."
Maybe it's the aesthetics. The imagery used is reminiscent of anime. With its cutesy motifs the illustrations seem to be directed toward young, perhaps "bi-curious" girls and the boyfriends who are reading the magazine over their shoulders, rather than actual queer women. There is no problem with depicting a thin, lithe lesbian body type — not all lesbians are flannel-loving tomboys, and that's just fine — but a certain lack of diversity in the bodies has elicited rumblings from some in the lesbian community. That said, when lesbians, regardless of their gender presentation, have been told that they don't have "real" sex, portraying said sex in flat, 2-D cartoons is both infantilizing and, well, dumb. 
Beyond the positions themselves, the accompanying names like like "the Belly Dancer" are superficial and troubling. I didn't realize a sex position was defined by wearing a Hawaiian lei.
Image Credit: Cosmopolitan.com
Most of the 28 positions depict the rubbing of genitals — either onto another's body parts, genitals or as is over-shown, thigh. Here's the thing: Lesbians like penetration — oral, vaginal and, yes, anal. The closest thing this piece comes to anal is the mention, in the "Double Duty" position, of a possibility to "move on to anilingus." 
The list also overlooks common techniques such as fisting. Perhaps they were deemed too uncomfortable for their audience? Instead, Cosmo would like its readers to believe lesbians like to rub our bellies together, making genie magic in a position named after a strong, caffeinated beverage. And while, yes, lesbians are adventurous, I'm not quite sure what this is, but I do know that you'll pass out if you stay upside down for more than a minute or so:
Image Credit: Cosmopolitan.com
There are some notable absences from the list, namely "Reverse Cowgirl." But what's not missing, of course, is the infamous "Classic Scissor," a position ubiquitous, oddly controversial and mystifying.
Any lesbian who claims to have never tried scissoring is probably lying to you, but it's certainly not for everyone. At this point, within the lesbian community, the term has become more laughable than anything else, as illustrated by a scene in Orange Is the New Black's second season, when Poussey and her German girlfriend try to scissor for all of five seconds before giving up.
Cosmo Editor-in-Chief Joanna Coles has proven herself an impressive leader with an even better sense of style. She has appeared on Project Runway: All Stars and new online series Go Bold, featuring Laverne Cox. But I doubt she even looked at this piece. I can't imagine her looking at a cartoon sex position and naming it the "Bermuda Triangle." 
In February, Cosmo told women to "take a flying leap" and literally land on their partner's penis for an Olympics-themed sex tips issue. The magazine can and should do better, because there are lesbians who do read fashion magazines, and who do appreciate haute couture and style trends. We are an audience in a wasteland — shunned by our subculture and not quite understood by the mainstream one.