Watch a Three-Year-Old Prodigy Lead an Entire Russian Symphony Orchestra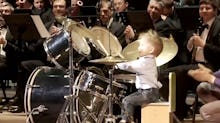 Everybody has a childhood phase when they bang on pots and pans. Three-year-old Lyonya Shilovsky is having a "playing concert halls in Russia" phase — and it might last the rest of his life.
In a recent video, young Shilovsky drums alongside an adult Russian symphony orchestra to a galloping section of Jacques Offenbach's "Orpheus in the Underworld" — better known as the "Cancan." What's more, this isn't the first time the young drummer has played in front of an audience. Shilovsky was also featured on Minute of Fame, Russia's equivalent to America's Got Talent.
In addition to being just adorable, Shilovsky is actually very musically talented. Like any great drummer, he's aware of dynamics and rhythm. He leads the orchestra as they rise from light touches to a galloping finish. Even when he drops his drumstick, partially because his arms are so short, he keeps his bass pedal pumping and jumps right back in.
And like any toddler, Shilovsky is equal parts shy and confident, rushing off the stage after his performance only to come back out excitedly and take his bow. 
We can only wonder what kind of killer drum solos this rising prodigy will give us when he's older.