More Than 1,300 Palestinians Have Died in the Gaza Crisis. Meet Twelve of Them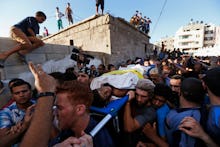 As Israel's offensive against Gaza enters its 23rd day, the Palestinian death toll has climbed past 1,300, and the Israeli death toll sits at 51.
It is yet another bloody chapter in the lengthy, hostile history of Israel and Palestine.
During the course of Operation Protective Edge, we have all seen photos of some of the horrifying carnage that the tiny strip has seen. We've also seen the images of rockets and missiles shuttling through the skies between Gaza and Israel, footage of civilians running in fear from explosions — and the death toll only seems to climb.
It's becoming all too clear that the price of this war is being paid by civilians. According to the UN, 70% of the casualties so far have been civilians. Amongst the casualties, 226 children.
It's a number shared, tweeted, retweeted and updated over and over again. It's easy to dehumanize, to lump together the dead in a grim math equation. But the civilians killed in Gaza are more than just numbers: They were children playing on beaches, families going to sleep at night, young men watching soccer. All of these people lived under siege in Gaza, trying to do what we all try to do: live their lives.
There are a few projects attempting to put faces to the numbers, including Humanize Palestine and Beyond the Number. Here are the stories of just a few of the innocent people killed in the ongoing crisis:
1. Samar al-Hallaq
Image Credit: Beyond the Number.
Samar al-Hallaq, a Gazan pregnant mother, devoted her time to spreading the beauty Palestinian arts. 
Al-Hallaq, 29, worked for the Palestinian History Tapestry Project. The British non-profit shared the art of embroidery from Gaza with the rest of the world. Earlier in her life, she also worked for the United Nations Relief and Works Agency.
She was killed along with her two young children aged four and five, as well as the unborn child she was carrying. She leaves behind a husband.
2. Mohammed Alareer
Image Credit: Humanize Palestine.
Bringing joy to thousands of Gazan kids, Mohammed Alareer was known for his humorous performances as a trouble-making yellow chicken character Karkour on Palestine's Al-Aqsa television show Tomorrow's Pioneers.
The 31-year-old was also known for his large role in protests against Israel during the Second Intifada in 2000, which involved reciting poetry and chants.
In Alareer's extended family, he is the 26th one to pass away in the Gaza-Israel conflict. He leaves behind two children.
3. Shadi Abd al-Kareem Farwana
Image Credit: Humanize Palestine.
As a humanitarian activist, Shadi Farwana was a relentless contributor to the community he lived in.
Working with Global Communities for four years, he was the coordinator for the organization's partnership with the World Food Programme. The organization remembers him for his "dedication to the humanitarian cause ... and great sense of humor."
Farwana, 35, leaves behind his wife and three children.
4. Hussein Yousef Hussein Kaware
Image Credit: Humanize Palestine.
Hussein Yousef Hussein Kaware, 13, was a part of a large family living in Gaza. He was a role model to all the younger children in the family, giving them advice on academic success.
He died along with six other members of the Kaware family in Khan Younis.
5. Mohammed Isam al-Batsh
Image Credit: Humanize Palestine.
He was a smart 17-year-old, with a bright future ahead of him and dreams of attending university. Mohammed Isam al-Batsh was anxiously waiting for his final exam results. 
An Israeli air strike killed al-Batsh, along with 18 members of his family in Gaza City. 
"They have stolen my happiness," his mother said of his death.
6. The al-Kilani family
Image Credit: Humanize Palestine.
A family of seven were just breaking fast, called iftar, in the Islamic holiday of Ramadan when a missile hit their home in Gaza City.
The father, Ibrahim Deib Ahmad al-Kilani, was 53 years old and an engineer working to provide for his family of five young children and his wife Taghrid Shoeban Mohammad al-Kilani.
The five al-Kilani children were aged four, eight, nine, eleven and twelve years.