If There Was Any Doubt Why We Need Better Gun Laws, This Video Is the Proof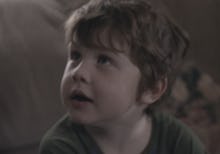 A new 30-second spot showing how easy gun access can turn a dangerous domestic violence situation into a fatal one will send chills down your spine. 
Created by gun control nonprofit Everytown for Gun Safety, the ad shows a woman frantically trying to call 911 call even as her ex bangs against the door asking her to let him in. The 911 responder on the other end of the line tells the woman to stay calm and asks her if she has a restraining order. Meanwhile, the man has already broken down the door and grabbed the woman's son. The ad ends with him taking the gun out from his jacket. The viewer is left with the sound of a gunshot and a crying baby. 
While the country grapples with an ongoing, always-heated debate over gun control laws, domestic violence and guns continues to be a lethal and catastrophic combination, one that has been lost slightly amid the higher-profile, large-scale acts of violence.
But that's a dangerous attitude in itself, according to gun control advocates like Everytown.
"The presence of a gun in a domestic violence situation makes it five times more likely that a woman will be murdered," the website states.
Indeed, an alarming number of reports in recent years back this assertion up as women continue to be targeted by assailants with firearms. In 2010, John Hopkins researcher Jacquelyn Campbell, who has spent years looking at trends in domestic violence, noted that guns were used in 88% of the homicide-suicides recorded by the Centers for Disease Control and Prevention's National Violent Death Reporting System.
The trouble with statistics is that they sometimes mask the human cost. Just last week Maine witnessed what police are calling one of its worst domestic violence cases in history, after 33-year-old shot husband used a shotgun to murder his wife and three kids. Earlier this year, 29-year-old Adoria Verser died after her boyfriend shot her in a Kansas City church parking lot, and Kiromy Fontanez, 24, was allegedly shot and killed in her home by her boyfriend in Connecticut, a state where domestic violence is the second biggest cause of murder. And the list goes on.
These crimes beg the question of easy gun accessibility to people who not only have a history with domestic violence but show predictable behavior in situations of violence escalation. Most states don't have effective laws in place for men who potentially pose a threat, including stalkers, abusive dating partners and men who've faced a temporary restraining order at some point.
Image Credit: Mother Jones
Everytown, which receives funding from former New York City Mayor Michael Bloomberg, is hoping to change this dynamic. This latest ad campaign is part of the group's attempt to pressure key politicians in Arizona, Nevada, New Hampshire and Washington D.C. to support new gun restrictions for domestic abusers, deployed in time for the Senate's first ever hearing related to guns and domestic abuse on Wednesday.
Although federal law does prohibit convicted domestic abusers from gun ownership, Huffington Post's Laura Bassett notes that the restrictions are from comprehensive, allowing far too many potentially violent offenders to take advantage of loopholes. Several additional bills that would attempt to close some of these loopholes are currently stalled in Congress.