5 Important Lessons About Sexism From the Slut-Shaming of Nicki Minaj's NSFW Artwork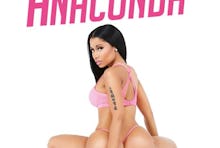 Sadly, it appears a woman can't celebrate her curves without being sneered at and shamed for it online. That goes doubly if your name is Nicki Minaj.
Hip -hop music's outspoken queen went out of her way to surprise fans everywhere with a sneak peek of the cover art for her upcoming single "Anaconda," which featuringes the Grammy Award winner stripped almost down to her birthday suit: a pink g-string, a matching, cropped bikini top and Nike Air Jordans.
The backlash was immediate and intense. Leading the sexist, fatphobic charge was popular site AllHip-Hop.com's founder Chuck Creekmur, whose pedantic op-ed has since gone viral on the reputed black women's blog MadameNoir.
Writing from the perspective of a concerned father, Creekmur chastised Minaj for "pushing her hyper-sexualized image:" "As a man, I can appreciate the virtues of your perfect posterior. The dad guy is not a happy camper, particularly now that his 'lil girl is transitioning into a young lady."
Sadly, in response to the backlash, Minaj delayed the single and its NSFW cover below but not before posting yet another photo of it on her Instagram profile, with a one line message that addresses all of her haters in no uncertain terms: "UNACCEPTABLE."
Image Credit: Nicki Minaj via Instagram
Creekmur goes on to ask Minaj to think of children, especially young daughters like his, growing up and seeing a woman's bare naked buttocks on the front of album covers. He challenges Minaj to think of women of yesteryear who practiced "respect" and "helping their people out" rather than hurting them with images like these.
Yes, the mansplaining and respectability politics are both strong with this one. But in the midst of the ensuing controversy, Nicki Minaj posted yet another NSFW photo proudly displaying her trademark curves.
Image Credit: Nicki Minaj via Instagram
Although Chuck Creekmur's critiques are problematic for a number of reasons, we can take this moment cheer Minaj for her bold stand. Instead of creating a culture of body- and fat-shaming, let's begin affirming that women — and especially adults from all sexes and gender identities — should be able to celebrate their curves freely without the paternalistic and misogynistic gaze of men who step out of bounds to say otherwise. 
And, in many ways, the valiant resolve on display from Nicki Minaj makes these five points ever so clear.
1. Black fathers with young daughters have more important issues to worry about than Minaj's behind.
Writing from the perspective of a black mother raising a young daughter, Ebony senior editor Jamilah Lemieux said: 
"On some level, I emphasize with Creekmur's concern about how this sort of imagery could impact a young, impressionable kid. But not because I think Nicki Minaj lacks self-respect or pride. Instead, I just think certain things are cool for adults (see: 'Partition,' both video and song) who are mature enough to enjoy them."
Lemieux also expressed her concern that Minaj sometimes positions her more clothed and age-appropriate moments in front of young kids, which could lend to some curiosity about her more adult image.
But in Lemieux's words about Creekmur's off-beat criticism, or as she called it, "ill-conceived and wrought with irony," the scornful sentiment couldn't have been more clear.
"Nicki Minaj should be able to show her grown Black a** when and wherever she wants — for her own pleasure and/or for the entertainment of fellow adults. It isn't her responsibility to cover up to save the children ..." Lemieux wrote.
"Ultimately, the onus of raising our kids will fall on us parents and there is virtually nothing we can do to keep them from listing to Nicki, or Wayne or watching porn, or SnapChatting when not in our presence. But what we CAN do is engage them in meaningful conversations about their bodies (and the bodies of pop stars), their behavior and their choices."
2. Black female curves have been denigrated throughout American history.
Historically, curvy black female bodies have played into racist and misogynistic tropes of black women as the "mammy" and the "jezebel" — both of which the current reaction draws heavy parallels and in varying degrees.
So what do each of those nasty, mass media-created stereotypes mean, exactly? 
The mammy functions as the embodiment of an enslaved, black female caretaker of white children, similar to what you'd see in Gone With the Wind, The Help and even in the ways some have responded to the Domino Sugar exhibit by artist Kara Walker in New York City, featuring a black slave woman made into a giant sugar sphinx-like structure.
The mammy is often portrayed as fat, curvy and typically dark-skinned, often speaking with a Southern American accent and even some ebonics. 
Image Credit: MizsimsAdventures.com
The jezebel, meanwhile, remains popularized even in present-day culture as the "bad black girl" who is as sexy as she is alluring to men. Often shamed for her ability to entice men toward sexual action, the jezebel even attracts men who may offer something she may value, such as money or power. The character trope was on full display in Vivica A. Fox's portrayal of Lysterine in the 90's film Booty Call.
Image Credit: YouTube
Although Minaj doesn't rap in a Southern accent — or even a "blaccent" — the parallels are many. Minaj's curves aren't often aligned with beauty, but rather an exoticization that's in many ways racist in that it fetishizes black women. But none of that is her fault because it's her body and she can do what she wants with it. 
3. Black respectability politics has to stop.
Creekmur cites historical figures, including the late Maya Angelou and actress/activist Ruby Dee to plead with Minaj to "clean up" her act. Ostensibly, Creekmur's goal is for Minaj to be known in history as one of the many black women who have worked to uplift the race, rather than as someone who destroyed a generation with her wanton displays of sexuality.
It's almost as if Minaj is raising Creekmur's child. Or is she?
Within the civil rights era specifically, black leaders had no choice but to operate as moral exemplars because racist whites often found ways to delegitimize their noble work in the name of justice and equality, if they could find any tiny reason why they didn't live up to American ideals of Christianity and patriotism. It's a phenomenon known as respectability politics.
While this was necessary at one point, we're entering a new era. We can let the baggage go and stop living in the past.
4. Instead, black female curves should be celebrated. Here's a start.
Even with all the hate, there's somewhat of a silver lining: some users on social media are instead taking the opposite approach and one that's frankly more revolutionary. They're celebrating Nicki's curves.
Thankfully in this case, Minaj's display of curvaceous sexiness has also been celebrated in perhaps the most Internet form of flattery: memes.
Image Credit: WeTheUrban.com
Image Credit: WeTheUrban.com
5. Black leaders like Chuck Creekmur are making the problem worse.
Even with the memes, sadly, the hate is everywhere, especially on Twitter:
But, thankfully, Twitter users who were wiser — albeit relatively quiet — eventually rose to Minaj's defense. 
And some people reminded us that the slut-shaming even comes with tinges of racism: