This Republican Mayor Marched 273 Miles to Send a Powerful Message to Washington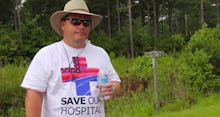 Adam O'Neal, the Republican mayor of Belhaven, N.C., just walked 273 miles in support of Obamacare.
O'Neal is conservative and while he hasn't fully embraced the Affordable Care Act — "I understand some of the suspicions political leaders in my party have," he told the Washington Post — his state's decision to reject the expansion of Medicaid and one tragic death in his community paved the way for a political stand.
What happened: Pungo District Hospital in Belhaven shut down on July 1. A few days later, Portia Gibbs suffered a heart attack in nearby Hyde County. What would have been a 25-minute ambulance ride the emergency room instead required a 75-mile airlift.
Gibbs died waiting for the helicopter.
Pungo ran a $1.8 million operating loss last year thanks to its many uninsured patients, who received charity care from the hospital. Had North Carolina approved Obamacare's Medicaid expansion, more of those patients would have had insurance, meaning the hospital wouldn't have had to take a loss.
"[Obamacare concerns] do not trump the need to maintain health services in struggling communities," O'Neal told the Washington Post. "Rural citizens dying should not be soldiers of the South's defiance to the new health care law."
The journey: O'Neal spent 15 days on the walk, during which he wore a "SAVE OUR HOSPITAL" T-shirt and met with other activists, politicians and well-wishers.
O'Neal hopes the walk will raise enough awareness to potentially re-open Pungo while making a point about turning down the Medicaid expansion. Twenty-two rural hospitals have closed in the U.S. last year, according to McClatchy, 20 of which were in states whose Republican governors blocked the expansion.
It won't bring Gibbs back, but more insurance coverage for low-income Americans would prevent similar situations from occurring.
"In that hour that she lived, she would have received 35 minutes of emergency room care, and she very well could have survived," O'Neal told McClatchy. "I'm just praying and hoping that there will be some government official that has the power to stop this."