Dear Guys, This Is What It Actually Means When You Talk About Your 'Asian Fetish'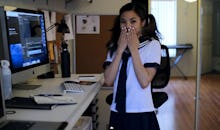 Dating as an adult is challenging enough, but the process can seem like an almost impossible task if you're a woman of color, forced to combat racism in the process.
It's a battle known all to well to Asian American women like Anna Akana, the creator of a biting new satire based on her own attempts to find love in a dating pool otherwise filled with what's often referred to jokingly as "yellow fever." Quoting some of the most off-beat, clueless stereotyping and fetishization that she and other Asian women have experienced on a routine basis, Akana uses humor to drive a clear point home to those not in the know: Tokenizing Asian women is absolutely not OK.
"Men with yellow fever look at you and only see schoolgirls or sexual geishas," Akana quips in one such quotable moment of "Why Guys Like Asian Girls." "They hide samurai sword collections in their closets. And they learn how to speak an Asian language, then only talk to you in that friggin' language."
The double standard, she notes, is that the same issue isn't typically faced by Asian men, who have a different challenge all their own. "The exact opposite happens to Asian men," she says with snark. "They have such a terrible history of being emasculated. Sorry, bro."
To be clear, there's nothing wrong with having a "type," something Akana makes known in the video. But there's a difference when a "type" is based on something as purely superficial as a person's racial background and not because of someone's personality, what they represent, even elements of their physical beauty, among many other layers of attractiveness that differ from person to person.
Image Credit: YouTube
But when it becomes racialized in an unfortunate way, she's probably right. You could very well be a "racist asshole."
Sadly, Akana's not the first woman to use her platform to show, unwittingly or not, why anti-Asian racism, fetishization and Orientalism is not flattery or cultural appreciation, instead functioning purely as cultural appropriation and bigotry. Orientalism has crept up in mainstream pop cultural fare time and time again, in everyday interactions and even in the mass media.
Just last November at the American Music Awards, Katy Perry drew ire for performing the song "Unconditionally" while donning what many termed as "yellow face." She dressed up and performed as a geisha, culturally appropriating and misaligning a portion of Japanese entertainment typically performed in a differing and relatively more socially aware context. 
As Janet Mock quipped, the unfortunate moment was more "Memoirs of an Off Key Geisha" than entertainment.
Similarly, in the summer of 2013, Los Angeles-based band Day Above Ground drew widespread criticism from various pro-Asian advocacy groups and the Angry Asian Man blog for their controversial video "Asian Girlz," which hit on every single trope that women like Akana criticize for reducing Asian women to sexual objects. In the song, which cost the band an appearance at the House of Blues Los Angeles, lead singer Joe Anselm belts lines such as "your creamy yellow thighs," "ooh your slanted eyes" and "Korean BBQ? Bitch, I love you."
In a one-on-one interview over at the Huffington Post, Anselm said he didn't even know how he was being racist — and could barely even define the term when asked.
"Racism is seeing people for what they are on the outside and not what they are on the inside," Anselm said. 
While an admirable sentiment, the truth, according to Akana, is that when Asian women are fetishized, everybody loses. Instead of seeing each individual woman for who she is, including but not completely limited to the cultural gifts she offers to a potential budding romance, "yellow fever" reduces a woman only to her race.