The Absurd Hypocrisy of Conservative Arguments Against Government Spending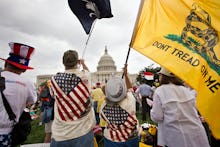 If Republicans love one thing, it's hating the federal government. But the states with conservative leaders who rail against government spending on social programs also benefit the most from it.
Since 2008, as the Tea Party movement has gained popularity across the U.S., the feds have been labeled anything and everything from "out of control," in the words of Texas Gov. Rick Perry, to "sort of like Nazis," in the words of Sen. Rand Paul (R-Ky.). President Obama went as far as to dub his conservative opponents in Congress "haters" on Wednesday. "Come on and help out a little bit," pleaded Obama at a rally in Kansas City. "Stop being mad all the time. Stop just hating all the time. Come on."
But conservative hatred of the big, bad federal government might just be an attempt to cover up their insecurity about benefiting immensely from the big, bad government's programs.
A new study about the Environmental Protection Agency (EPA) proves just that. Released last week by the Center for Strategic and International Studies and the Rhodium Group, the study examines how new environmental regulations promoted by President Barack Obama under the Clean Power Plan (CPP) could affect the economies of U.S. states. The study found an ironic coincidence: States with leaders that have actively campaigned against the EPA and have even called the existence of climate change into question stand to benefit the most from the new regulations. 
Under President Obama, the EPA has fought hard to limit the amount of carbon power plants are allowed to produce. The agency's new proposed rules would reduce the amount of carbon produced by power plants by 30% by 2030, compared to 2005 levels. The new standards mean that states that produce significant quantities of natural gas, which has a lower carbon footprint than older technologies like coal, would gain billions of dollars over the coming decades. Texas, Arkansas, Louisiana and Oklahoma — which all have prominent politicians that have criticized EPA overreach and questioned the existence of global warming — would gain the most from the new rules, adding $16 billion to their economies, and "not just gas companies and employees, but also private land owners, state budgets and sectors of the economy directly tied to natural gas production." That, in part, is thanks to the EPA.
Texas Gov. Rick Perry has said he's "not afraid" of global warming, and doesn't believe climate change is a man-made phenomenon. And Oklahoma Gov. Mary Fallin has said her state's drought problems have nothing to do with global warming. But those same states will see a big influx of cash in the coming years. "The irony is that some of the states that have been the loudest in opposing EPA climate regulations have the most to gain in terms of actual economic interest," Trevor Houser, a co-author of the study told the New York Times.
Of course, Republican opposition to governmental programs that disproportionately benefit them is nothing new: There's hardly a federal agency or policy that hasn't been lambasted by Republicans in Congress as a waste of money, a burden on freedom and even a communist plot. But it seems the programs they hate most are the ones that are actually best for them and their constituents.
The U.S. House of Representatives voted last year to cut $40 billion from the federal Supplemental Nutrition Assistance Program (SNAP, aka food stamps). But an analysis by TIME of county-by-county food stamp enrollment data found that counties that voted Republican, and that were overwhelmingly white, used the most food stamps. That data goes against the stereotypical and sometimes racist imagery some conservatives have used — depicting food stamp recipients as city dwellers who are often black or Latino.
Above: SNAP participation in congressional districts represented by Republicans. Image Credit: TIME
Kentucky Republican Representative Hal Rogers even called the food stamp program a boon for "scammers, lottery winners, gamblers and others who may be able to work, but simply refuse." If that's what he believes, he might be bad mouthing many of his own constituents: 1 in 3 people in his district rely on SNAP, according to TIME.
The hypocrisy doesn't stop there. Red states in general take much more money than they give back to the federal government in tax dollars. A WalletHub analysis found that Delaware, which overwhelmingly voted for Obama in 2012, only got back 50 cents for every dollar they sent to the feds. That's in stark contrast to conservative Mississippi, which got $3.07 back for every dollar. In fact, many Republican-leaning states, from South Dakota to West Virginia, ranked at the bottom in contributions to the federal government, and at the top of states that rely most on government programs like unemployment.
Places with more Republicans than Democrats stand to benefit more than the rest of the country from perhaps the most hated "government overreach" of all: the Affordable Care Act (ACA), or Obamacare. Texas and the states surrounding it had such a need for affordable insurance before the ACA was passed that some had started calling the area the "Uninsured Belt." 
Analysts have argued that because Republican states tend to be in economically depressed areas like the South, it's not fair to compare them to centers of industry and finance like New York or California. But that's exactly the point: States that invest in their citizens tend to get a big return on their investment.
In Massachusetts, for example, conservatives predicted economic chaos when then-Governor Mitt Romney rolled out "RomneyCare," the system Obama essentially modeled the Affordable Care Act off of. Instead of an economic crisis, Romney's health system helped 98% of Massachusetts residents get health insurance, and unemployment fell at the same time.
It seems the same thing is now happening with Obamacare: income inequality is decreasing, recent job numbers are promising and the U.S. economy is on the upswing. And you can bet many of the benefactors of that positive news will be card-carrying conservatives.