What Syria's Civil War Looks Like Through the Instagram of a Young Jihadist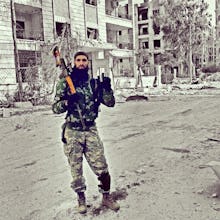 Who are the young men hellbent on holy war, making their way to Syria to fight?
Turns out, they're fairly similar to the rest of their counterparts around the world. Take Dutch-born Israfil Yilmaz, a man of Turkish descent using social media to catalog his life as a jihadist in Syria. His Instagram feed was removed after Vocativ posted some of his photos Wednesday, but his Twitter and Tumblr account, Battlefields of Syria, are goldmines of vivid scenes from the front lines of Syria's ongoing civil war. 
Yilmaz is one of the young, foreign jihadists who have made their way to Syria and Iraq to join one of the many extremist groups operating there. One of the most notorious is Islamic State (IS), the extremist branch of al-Qaida currently tearing apart Syria and Iraq. IS uses social media to evoke both fear and support: their videos show beheaded adversaries as a threat to potential challengers, but their Instagram account boasts artful shots of kittens in order to "reassure the people that they're going to take care of them in a strictly Islamic way," said independent analyst Pieter van Ostaeyen.
1.
2.
3.
4.
5.
6.
7.
8.
9.
10.
11.
12.
13.
14.