5 Important International Stories You Probably Missed This Week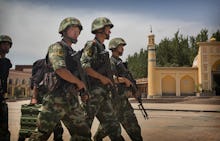 The news: Quartz's managing editor (and former Time world editor) Bobby Ghosh thinks that the past week has been the most violent in his entire career as a journalist.
"In my entire career, I've never seen a worse week of international violence," he writes. Aside from the major headlines — ISIS rampages in Iraq and Syria, the Libyan civil war and the insurgency in eastern Ukraine — Ghosh notes five serious major acts of political violence that might have been overlooked in the meantime. 
1. An incident involving Chinese Uyghurs led to the death of dozens on July 28. The Chinese government claims that a huge mob of attackers in Xinjiang province launched co-ordinated attacks with knives and axes on a number of targets including two towns and police buildings. The official Xinhua news agency released a terse report indicating that the attack killed dozens of civilians, while "dozens" more of the attackers were killed by responding law enforcement officers. The New York Times reports that Uyghurs contest that the incident can be blamed on police, who opened fire on a political demonstration and caused subsequent rioting. In addition to the civilian casualties, a minimum of 13 police officers were killed responding to the active rebellion.
2. Terrorist group Abu Sayyaf murdered 23 people in the Phillipines during Ramadan. Active for more than 20 years, the Islamic extremist group Abu Sayyaf claims to represent the country's disenfranchised indigenous Moro population. Just years ago, the Center for Strategic and International Studies claimed the group was being weathered down following raids by security forces. Weak or not, the group is still capable of doing serious harm. The Associated Press says that Filipino civilians were targeted by 40 to 50 gunmen on the road on July 28 while traveling to visit their families, while a report from the Phillipine Daily Inquirer suggested that the assault was due to rebel infighting.
3. Hamid Karzai's cousin was killed by a suicide bomber. Afghanistan just keeps getting worse, with the New York Times reporting that a man wearing a suicide vest approached Hashmat Khalil Karzai and detonated himself on July 29. Khalil was a Karzai supporter and recently lent his support to Karzai's chosen successor, Ashraf Ghani, whose ascent to presidency has been riddled with accusations of voter fraud. Since no one took credit for the attack, discerning a motive has so far proved impossible. Just one month earlier, another leading presidential candidate survived a double bombing.
4. Boko Haram kidnapped more people on July 27. It just so happened that they crossed the border from Nigeria to Cameroon to do it, and among the kidnapped was the wife of a senior Cameroonian politician. Militants clashed with security forces, leading Cameroon to escalate the conflict with troop deployments.
5. Forgot about Assad? Syrians didn't. Especially because Human Rights Watch released a report on July 30 indicating that government forces were deploying explosive barrel bombs on civilians, releasing evidence of more than 650 documented blast sites in the country's most populated city, Aleppo, alone. A barrel bomb is exactly what it sounds like: a barrel packed with high explosives and haphazardly tossed out of an aircraft onto the ground below. Because they're impossible to use to target troops effectively, barrel bombs are almost exclusively used to terrorize civilian populations.
Photos released by Human Rights Watch showed entire districts of the city leveled to the ground, in some cases almost without a trace. Other violations included documented kidnapping, torture and murder of noncombatants by all sides in the conflict. On July 30, the New York Times profiled Moner Mohammad Abusalha, a Florida man who joined an extremist group and suicide bombed a restaurant in northern Syria in May.
Ghosh is right. This was a really shitty week.