Anna Paquin's Masterful Explanation of Bisexuality Should Be Required Viewing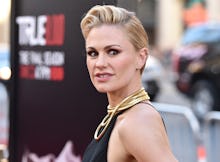 Larry King doesn't understand bisexuality.
The iconic television personality made that quite clear during a recent interview of True Blood star, Anna Paquin. The interview, which was ostensibly designed to discuss the show's imminent season finale and her marriage to vampire co-star Stephen Moyer quickly turned awkward when King began delving into Paquin's well-publicized bisexuality:
King's confusion isn't exactly unusual and in fact expresses a common misconception on bisexuality. A bisexual's identity isn't dictated by the gender of their partner. Someone can certainly still identify as bisexual even if they're in an opposite-sex, monogamous relationship. 
Paquin came out as bisexual in 2010 during in a public service announcement for the Give a Damn Campaign. The 31-year-old has been public about her support for the LGBT community tweeting last June that she was a "happily married bisexual mother."
"There's people that are going to go to their grave thinking what they think about the LGBT community," Paquin later told HuffPost Live. "That's their problem not mine. And there's people that think that monogamy and bisexuality are mutually exclusive. Again, their problem not mine. The reason I feel like it's important to talk about this stuff is that the more normal and, frankly, mundane and boring this stuff becomes the better it's going to be for everybody who is part of our community."