The Basketball World Shares an Uplifting Moment of Support After a Gruesome Injury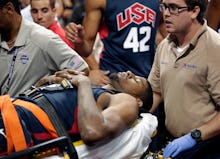 The news: During a friendly Team USA basketball scrimmage last night, things turned ugly when Indiana Pacers forward Paul George had an awkward fall and had to be carried off the court in a stretcher due to a gruesome leg injury.  
You can watch the injury here (WARNING: It is very, very graphic).
According to reports, 
Unsurprisingly, the grisly incident cast a grim mood on the scrimmage, which Team USA coach Mike Krzyzewski quickly stopped out of respect to George. The mood was obviously tragic, but the event also offered an amazing opportunity for the NBA and basketball players to rally around George with an outpouring of uplifting support on Twitter. 
Members of the media also expressed their concern and support.
As did the Indiana Pacers organization.
Meanwhile, others are already looking into what issues on the court may have led to George's injury. 
In a league and sport that, at its worst, can resort to something as mean-spirited and hateful as an all-out brawl, the outpouring of respect and support for George was nothing short of amazing. Of course, players are bound to have some level of camaraderie, but after positive moments like this, it's easy to remember why America loves sports so much. 
Despite what will likely be a season-ending injury, George's first tweet after the injury was touchingly uplifting and positive.