17 Brilliant Novels You Can Read in the Time It Takes to Fly Across the Country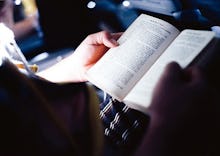 It's summer, which means it's travel season. Instead of wandering through an airport bookstore, why not prepare for your flight with a book the perfect length to read in the time it takes to fly across the U.S.A.?
Falling in at just about 150 pages, a six-hour read, you won't want to put down these celebrated novels — and you won't have to. We promise the time will fly just as fast as the plane. 
1. 'The Awakening' by Kate Chopin
Image Credit: Amazon
Chopin is an early modernist writer, this book was published in 1899, is known for remarkably feminist work. Edna Pontellier the protagonist in The Awakening is a wife and a mother who doesn't feel defined by either of those roles, and instead begins to understand her desire for independence overwhelms her societal duties. An ideal read for any young woman struggling to find her path, there's some comfort in knowing we've been feeling the same feelings for centuries.
2. 'The Hound of the Baskervilles' by Sir Arthur Conan Doyle
Image Credit: Amazon
This is one of Sherlock Holmes' most famous adventures, about a mystery of an attempted murder and the legend of a supernatural hound. First published in 1901 as a serial in Strand Magazine, the story clocks in at a slim 128 pages, perfect for a plane ride. Plus, nothing like a mystery to keep your mind occupied and those pages turning.
3. 'Night' by Elie Wiesel
Image Credit: Amazon
Though short, this book is not for anyone looking for a light read. Night follows Wiesel's experience during the Holocaust reflected through his narrator, Eliezer. As Eliezer loses his family in concentration camps, he questions his faith in God. Though he survives, Eliezer struggles to reconcile his past with life after the Holocaust. 
4. 'Passing' by Nella Larson
Image Credit: Amazon
This 1928 novel follows two childhood friends in 1920s Harlem, New York. Both light-skinned African-Americans, Clare and Irene are able to "pass" as white. However, Irene cannot accept the fact that Clare marries a racist white man who believes Clare is white as well. The novel explores both themes of friendship and love in the context of race in America. 
5. 'Candide' by Voltaire
Image Credit: Amazon
This French satire is still as relevant and hilarious as when it was first published in 1759. Candide, the main character, is raised in an Edenic paradise, believing that everything that happens is for good and that he is living in the best of all possible worlds. The work then follows Candide's painful disillusionment as he witnesses the world's hardships, and how he learns to live in an imperfect world without being blinded by optimism. 
6. 'The Member of the Wedding' by Carson McCullers
Image Credit: Amazon
Frankie Addams is a bored 12-year-old who lets her imagination run wild in the planning of her brother's wedding. She convinces herself that her brother and his new wife will let her join them on their honeymoon. While this results in much comedy, the novel also tackles serious themes of race and gender in America. Read the novel, then watch the 1952 movie. 
7. 'Animal Farm' by George Orwell
Image Credit: Amazon
The famous allegory for totalitarian regimes takes place on Manor Farm, where the animals drive out their human masters to create Utopia. Unsurprisingly, not all goes according to plan, and every member of society is criticized for their part in the destruction. At 124 pages, thanks to Animal Farm the flight from East Coat to West can also include an in-depth look at power.
8. 'Autobiography of Red' by Anne Carson
Image Credit: Amazon
This is the visionary novel that made Carson famous. Written in verse, Carson updates the classic myth of Herakles and Geryon from the monster's perspective. By doing so, she asks questions of humanity as if they had never been asked before, and builds an intensity that reflects on love and growing up in the modern world.  
9. 'Invisible Cities' by Italo Calvino
Image Credit: Amazon
Invisible Cities describes a series of imaginary cities from the perspectives of iconic figures from Marco Polo to Kublai Khan. Each city is a mini revelation, and each chapter builds on the last to create a fantastical world. The novel has inspired thousands of art projects and will inspire you to take a new perspective on traveling, particularly relevant as you aerially cross the United States.
10. 'The Buddha in the Attic' by Julie Otsuka
Image Credit: Amazon
This fictional account has a remarkable narrative style, speaking from the plural form about the experiences of Japanese picture brides. Based on real life, the story is a powerful chorus of their voices reflecting their experience being brought from Japan to California.
11. 'The Old Man and the Sea' by Ernest Hemingway
Image Credit: Amazon
Hemingway won both the Pulitzer and Nobel Prize for this work, which means he made each of these 110 pages count. The Old Man and the Sea tells the story of an old Cuban fisherman who has gone 84 days without catching anything. On the 85th day, he goes out into deep water and a gigantic marlin bites his bait. An intense physical struggle ensues, taking on different symbolic value for each person who reads it. 
12. 'The House on Mango Street' by Sandra Cisneros
Image Credit: Amazon
Cisneros is one of the most remarkable modern prose writers. She embodies the inspiring voice of Esperanza with abrupt vignettes that transport you to another life in only a few sentences. Focusing on themes of race, gender, family and what it means to be home, the novel comments on abuse and poverty without moving from Esperanza's youthful perspective. 
13. 'The King' by Donald Barthelme
Image Credit: Amazon
Barthelme is well known for his skill with short stories, and he has that reputation with good reason. In The King, he places the Knights of the Round Table in World War II in an absurd and delightful retelling of Le Morte D'Arthur. At 157 pages, it will fill all the moments between wheels up and wheels down.
14. 'The Metamorphosis' by Franz Kafka
Image Credit: Amazon
Kafka's famous and oft alluded to story follows a man who wakes up one morning and discovers he has been transformed into a giant cockroach. Needless to say, you don't want to miss the chaos that follows. All 82 pages of it.
15. 'Notes from Underground' by Fyodor Dostoevsky
Image Credit: Amazon
If you don't have time to pick up Russian novelist Dostoevsky's longer classic novels, this novela is a great alternative. Considered by many to be the first existentialist novel, it is framed as an excerpt of the memoirs of a misanthropic, unnamed narrator in St. Petersberg. 
16. 'The Sense of an Ending' by Julian Barnes
Image Credit: Amazon
This playful and philosophical story explores memory and how it compartmentalizes reality. It's a compelling and beautiful read focused on a middle-aged man whose closest childhood friends return with a vengeance. He is forced to reconsider his own history and sense of self as his typical life as a retired divorcée is turned upside down. 
17. 'Who Will Run the Frog Hospital?' by Lorrie Moore
Image Credit: Amazon
During a trip to Paris, a woman realizes that she no longer loves her husband. This triggers the remembrance of a captivating teenage friendship that fell apart after an unwanted pregnancy and abortion. Written with understated humor and wry understanding, this is a book you'll want to read again. But that will have to wait for the flight back home.