Beyoncé and Nicki Minaj Just Showed the World What Pop Feminism Can Do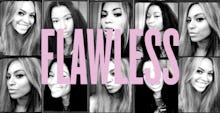 Beyoncé broke the Internet again this past weekend with a remix her of hit song, "Flawless." This time, though, she enlisted Nicki Minaj, the reigning queen of rap, in her quest to smash sexism and patriarchy. And suddenly it's totally clear: There's a massive change under way in pop music.
When "***Flawless" came out in December 2013 it was like the sound of a revolution. The track opened with a quote from forceful feminist author Chimamanda Ngozi Adichie, declaiming, "We teach girls to shrink themselves, to make themselves smaller. We say to girls 'You can have ambition, but not too much.'"
Now, Beyoncé and Minaj proved that you can never have too much ambition. They are the biggest feminist icons in pop, and this is the moment when their personal brands of feminism came together in one almighty track.
The lyrics see each woman addressing a recent conflict in their personal-public lives. At the top of the song, Beyoncé strategically addresses the now infamous elevator brawl during which her sister, Solange, attacked her husband Jay Z as they were leaving the Met Gala in New York City. But she isn't on the defensive — she's proving to everyone that she won't let her family be defined by media narratives or gender stereotypes — that she's her own woman despite the fact that everyone wants a piece of her.
"We escalate. Up in this bitch like elevators. Of course sometimes shit go down when it's a billion dollars on the elevator," she raps. But then rather than craft a perfect explanation of what happened, she launches into the litany of lessons she's learned about womanhood from her family: Tina taught her good "home training," Mathew told her to love her haters, Solange showed how a woman can speak her mind. Her point is simple: The only opinion that matters is her own and her family's, media scrutiny and sexist double standards be damned.
Image Credit: Beyonce.com
And of course that's a message that Minaj gets better than anyone else. When she released the daringly NSFW cover art for her new single, "Anaconda," she was hit with a wall of backlash. At the time, she responded by pointing out how racist and sexist the outraged response to her photograph was. But on this song, she takes her defense up a level with bold lyrics celebrating female sexuality and slamming her haters.
"Tell 'em winning is my mothafu**in' protocol. These bitches washed up and ain't no fu**in' soap involved. It's every hood nigga dream fantasizing about Nicki and Bey, curvalicious, p**sy served delicious," Minaj raps, showing she's got no qualms about proudly celebrating her body and sexuality, on or off social media.
Image Credit: Nicki Minaj via Instagram
These artists have both built historic careers on lyrics like these. In the past, some critics have called this a "bottom bitch" attitude — worrying that lyrics like "Slap these hoes on they a** like we birth these bitches" and "Bow down bitches" discourage other women rather than empowering them.
But that could be missing the point. Beyoncé and Minaj aren't putting anyone down, they're conveying a simple message: Confident and ambitious women deserve real respect, same as men. It's a message that's been passed down from powerful women in the industry for a long time now Aretha Franklin to Queen Latifah's "U.N.I.T.Y." to Christina Aguilera and Lil' Kim's "Can't Hold Us Down." And with Bey and Nicki's combined star power and fresh spin, it's catching and holding with a bigger audience than ever.