The Most Impressive Thing About Silent Norma Is What You Haven't Seen on TV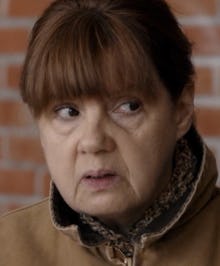 One of the most exciting moments in Orange Is the New Black's season 1 finale is when the mute Norma breaks out in song. It was a startling moment after a series of silence, a silence that was perpetuated into season 2 when Norma remained mute through a slew of horrifying moments.
Norma's silence becomes all the more alluring when put into the context of Annie Golden, the actress who plays Norma. Prior to her role on the Netflix series, Golden was best known for her singing voice.
Golden may not be in Patti LuPone, Sutton Foster or Audra McDonald territory but her pre-OITNB career was defined by being the songstress of choice for Broadway's most unusual writers. Golden is best known for being a brassy, rock 'n' roll Broadway rebel. Of course, this makes her non-speaking regular role on Orange is the New Black all the more enticing.
"I had no training. I came from downtown rock and roll and when I came in and auditioned for the Broadway revival of Hair I had no eyebrows," Golden told the Huffington Post, "kind of a Bowie-esque glimmer kid." Not what you'd be expecting from Litchfeld's most demure inmate.
Golden began her career as the lead singer for The Shirts, who headlined at CBGB in the 1970s. She also played Jeanie Ryan in the 1979 movie musical Hair as well as appearing in the 1977 Broadway production.
Golden continued to headline unusual musicals into the '80s when she was cast as Carrie in the 1984 musical adaptation of Stephen King's novel. The musical is a now infamous flop, closing after only five performances, losing $8 million for investors and becoming the most expensive failure in Broadway history. Despite this, Golden's reputation as a ballsy singer remained intact. 
Golden's biggest break perhaps came in the Stephen Sondheim musical Assassins, a strange carnival revue starring the assassins (or would-be assassins) of American presidents. Golden played Lynette Fromme, a dedicated lieutenant of Charles Manson who tried to kill President Gerald Ford. Fromme's standout song is "Unworthy of your Love," sung to "Charlie" Manson in the style of a sappy love ballad, but loaded with self-loathing, obsession and bloodlust. She features in the original Broadway recording, and still performs the song today. 
Golden still revisits The Shirts, Hair and Assassins regularly in cabaret performances and concerts. She performed a mean version of "Frank Mills" in a charity concert of Hair in 2004. 
Even now Golden's singing career churns on. She serves as muse for Joe Iconis, one of a new generation of exciting musical theater composers. She is one of his regular performers, known as "the family," who sing his new compositions in sold-out concerts. He even started developing a musical just for her called Anne Golden: Bounty Hunter, Yo! In the meantime, she's appearing on Broadway in Violet.
Although she may only get a few moments of singing on Orange Is the New Black, like many other cast members on the show, Golden had a wide and exciting career beforehand: only hers was in top-quality, experimental musicals. Let's hope Norma breaks her silence again, maybe this time in full, brassy, punk-rock song.