Nicki Minaj's 'Anaconda' Is the Fiercest Take on Female Sexuality of the Year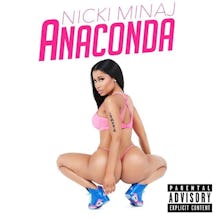 One week after Nicki Minaj ignited the Internet with the cover art for her single "Anaconda," she released it again. This time, there was a song attached to the photo. There was also a "Parental Advisory" sticker right over the song and the controversy's main subject: Minaj's ass. Everything about this is brilliant.
The song is pop gold, but there's a powerful feminist twist to it. Minaj samples Sir Mix-a-Lot's hit "Baby Got Back," which includes the now oft-quoted phrase "My anaconda don't want none unless you got buns, hun." This is a classic rap gender and race paradigm (see: the "Thong Song") — the man is in control of the sexual situation, his 'anaconda' described as a predatory animal. But Minaj totally flips the line on its head and raps about the power of a bodacious booty instead.
"Come through and f*** him in my automobile / Let him eat it with his grills, and he tellin' me to chill / And he telling me it's real, that he love my sex appeal / Say he don't like em boney, he want something he can grab ... Yeah, he love this fat ass. This one is for my bitches with a fat ass in the f**kin' club," she raps.
And based on her Instagram teaser, she has a mind-blowing video to match on its way.
In this clip and the lyrics of her brilliant rap, Minaj tears down the age-old objectifying standards that Mix-a-Lot best epitomized with his Grammy Award-winning song. Back in 1992, Mix-a-Lot's music video, too, was widely panned for objectifying black female bodies, with the women in the video gyrating and spanking each others' rear ends as if they existed solely for a man's pleasure. 
"Booty politics" are nothing new, then, and they've been prominent in pop music ever since Mix-a-Lot. In just one example, Bubba Sparxxx's 2005 summer smash "Ms. New Booty," shared an enthusiastic endorsement of a curvier female bottom: "Yeah I'm a country boy, but that big city bottom fills me up with joy," Sparxxx raps, adding that women need to "get it right, get it tight."
They tend to be catchy, but these songs have helped counter a culture where many thicker women face body-shaming, fatphobia and moralized respectability politics, as Minaj encountered when she released the NSFW cover art for the song last week, featuring her buns proudly on display. But they usually do so with their own unfortunate brand of sexism. That's why it's important when women like her fire back against male perspectives on how black and brown bodies should look, as Trina did in "Da Baddest Bitch" and as Minaj does mightily in "Anaconda."
Of course, Minaj does this, to some extent, by mocking skinny girls and targeting men with average (or below average) endowments. But the song is far more empowering than it is derogatory. It shows — bravely and boldly — that women can and should own their curves, their sexuality and how they choose to express that in any way, whether it's overt or subtle. She's showing that it's not only men who should be allowed to show themselves as sexual beings, in and out of their music.
And it's about time somebody took that stand — or squat — as boldly as Minaj has.