Here's How Anonymous Is Trying to Take Down the Israeli Government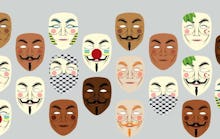 By launching a cyberwar. Anonymous — the faceless hacker collective best known for harrasing several American credit card companies, the Westboro Baptist Church and the Church of Scientology — has launched an aggressive assault on the Israeli government for their ongoing ground campaign in the Gaza Strip. And in true Anonymous fashion, they aren't hiding it — they're flaunting it.
On July 20, Anonymous announced their plans to "wage a cyber war against the state of Israel." The offensive largely coming from hackers based in the Middle East, South America and Asia began using the hashtag, "OpSaveGaza." This past weekend, the attack intensified after Anonymous took down several Israeli government websites and allegedly released multiple Israeli router usernames and passwords, and the tactic is gaining traction.
It is difficult to quantify the damage inflicted on the Israeli government by Anonymous, but their message is clear: Israel's tactical efforts in Gaza warrant a counterattack to make Israel "feel fear tingling in their servers."
The attack: According to @AnonymousGlobo, hackers have shut down the Ministry of Justice website, the State Archives website, the Israel Defense Forces website, the Negev district website and several others. Most of them have been restored as of Monday afternoon.
The Twitter handle published a complete listing Monday of all the "Tango down" sites boasting their accomplishments. Even as Israel actively combats the target attack, Anonymous is clear in their intentions.
"As a collective, 'Anonymous' does not hate Israel. It hates that Israel's government is committing genocide and slaughtering unarmed people in Gaza to obtain more land at the border," a spokesperson told Mother Jones.
Anonymous has a history of waging cyberwars against Israel. In 2012, the collective racked up millions of dollars of damage to the government by targeting military and civilian websites, according to an Anonymous spokesperson after it launched the campaign "#OpIsrael." The cyber-security consultant Orr Nir likened the Anonymous assaults to Hamas rocket attacks on Israel telling the Times of Israel, "most of them miss, but if one does strike a high-value target, it could cause a disaster."
However, other sources, including a computer security company, maintained that the 2012 Anonymous cyberattacks were rarely successful. Substantiating that claim, Yitzhak Ben Yisrael from Israel's National Cyber Bureau said in 2013 that Anonymous's other cyber takedowns produced barely any damage.
Armed and anonymous: Though only limited damage has been afflicted on the Israeli government thus far by Anonymous, the point remains the same: Anonymous is boasting their power and giving Israel, and the world, a taste of what it can do.