One Country Artist Is Taking a Bold Stand Against America's Rape Crisis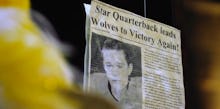 Most people have an idea of how a country song called "Quarterback" would sound. But 20-year-old singer-songwriter Kira Isabella's debut single "Quarterback" is nothing like you'd expect: It's a forceful take-down of date rape culture, and it's extraordinarily powerful.
The song tells the story of date rape from the perspective of the victim, a quiet girl in the marching band who lands a coveted date with the senior quarterback of the football team. By the song's end, Isabella's nameless protagonist has completed an all-too-common trajectory — her excitement about her date has transformed to horror: "Monday morning when the word got out / Everybody picked a side / He had the school and the whole town too / And she had nothing but the truth inside."
It's no secret that America has a serious problem with date rape. Time Magazine recently ran a cover story on the campus sexual assault epidemic. Members of Congress are pushing a bi-partisan bill that would require greater transparency from colleges when reporting sexual assault complaints. Tech companies are now developing pocket-sized devices that detect date rape drugs in drinks. But a country singer's voice is unexpected in the conversation.  
Unlike the mainstream media in many rape cases, "Quarterback" does not empathize with the rapist. Instead, it tells a "You Belong with Me"-esque tale of nerdy girl meets popular guy gone horribly wrong, with a powerful chorus ("Who you gonna blame, the star of the game / Or the no name girl in the marching band") that perfectly encapsulates the culture of victim-blaming that has become all too common in conversations about rape. 
For that reason, As Wondering Sound's Charles Aaron pointed out in an excellent essay, the song will sadly be a tough sell for country radio. But it shouldn't be — not only because it's as catchy as anything else on country radio, but more importantly because it's a message that too many need to hear. According to RAINN, "one out of every six American women has been the victim of an attempted or completed rape in her lifetime." Reporting sexual assault still carries strong taboo for women, however, and "Quarterback" gives a voice to those others seek to silence. 
It's certainly a bold move for a new artist, especially in a format that heavily favors the conservative, but Isabella stands by her decision to introduce herself to the U.S. via "Quarterback" (she's already a fairly well-established artist in Canada). "When I heard it, I immediately realized the subject resonated with people in my generation. It's a reality that they deal with," Isabella told Nashville's MusicRow Magazine. "I've had people write to me, thanking me for recording this song because they've gone through a very similar situation to what is depicted in the lyrics."
She always heard that a girls first time,
This is an important song, then, because it goes against a lot of the negative country stereotypes that only reinforce rape culture. Although Isabella is Canadian, the song's three writers — Marti Dodson, Bobby Hamrick and Rivers Rutherford — hail from Nashville's Music Row. Rutherford, especially, has seen massive success as a country songwriter, having penned hits for artists like Tim McGraw, Kenny Chesney and Faith Hill. The three songwriters were inspired by recent football scandals, including last year's Steubenville rape case. 
That case in particular illustrated the damaging culture of victim blaming that "Quarterback" looks to take down. CNN correspondent Poppy Harlow infamously said it was "Incredibly difficult, even for an outsider like me, to watch what happened as these two young men that had such promising futures, star football players, very good students, literally watched as they believed their lives fell apart ..."
"It was on my mind," Rutherford told Rolling Stone. "As a father of two daughters, one who's going off to college, it just felt like something that needed to be said."
Fortunately, Isabella isn't the only one saying it anymore. Though "Quarterback" was released a bit ago, it's starting to pick up more and more steam now with recent coverage in Rolling Stone Country and Jezebel. It'll only pick up more steam. With the song, Isabella joins a new wave of female country stars, like Kacey Musgraves, Brandy Clark and Maddie & Tae, who aren't afraid to bring diverse experiences to a genre recently dominated by bros whose songs about girls and trucks sometimes sound too similar to the Quarterback's side of things. While it's too early to know whether "Quarterback" will see any commercial success, the song is a huge step forward for women and country alike.
If only it weren't so necessary.