Two Football Teams Put Aside a Decades-Old Rivalry to Solve a Major Problem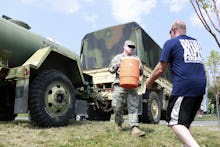 The football rivalry between Bowling Green State University and the University of Toledo — the so-called Battle of I-75 — dates back to 1919 and is laden with passion and mutual enmity.
Leave it to an environmental crisis to prompt a rare détente between the two schools.
With Toledo residents told their tap water was unsafe to drink, cook or bathe in — even if boiled — the local football team might have seemed ill-equipped to begin fall practices on Sunday as scheduled.
That was until a prayer for drinkable water was met by an unlikely source: their historic archrivals.
When the Rockets' athletic office reached out to Bowling Green so that the Toledo players could start on time, the request was met with open arms. 
The Falcons came through, allowing the Toledo players to drive the 26 miles into enemy territory over the weekend and fill up about 500 gallons' worth of water containers. Holding water hoses, the Bowling Green players were even waiting there to greet the rivals that the current class of seniors have still never beaten. (Toledo has not lost to the Falcons since 2009.)
"This is a crisis situation and it's about making sure the kids have water," Alfred Castillo, the Bowling Green assistant athletic director for sports medicine, told NBC affiliate NWNO. "It's not about the rivalry right now."
Toledo Mayor D. Michael Dollins lifted the city's water ban on Monday, meaning things could begin to return to normalcy in northwest Ohio. The next time the Rockets and Falcons meet as a group — at Toledo on Nov. 19 — a lot more than hydration will be on their minds.