Emma Watson Is Laughing Out Loud, But Not For the Reason You Think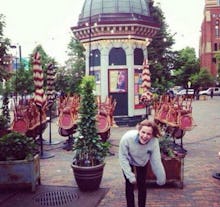 Having helped defeat Voldemort (in Harry Potter), broken into celebrity homes (in The Bling Ring) and survived the original flood (in Noah), actress Emma Watson has now turned her attention to another task: speaking out against misogynist politicians in real life.
Turkish Deputy Prime Minister Bulent Arinc argued last week that women cannot be proper if they laugh in public. "The woman should have chastity," he said in a speech. "She should not laugh in front of everyone and not be inviting in her behavior. She should protect her honor."
Turkish women were far from pleased with his declarations and quickly took to social media to post images of themselves laughing with the hashtag #direnkahkaha, which translates literally to "resist and laugh off."
A high-profile supporter of the campaign was none other than Watson, who posted her own laughing selfie on Twitter last Friday.
Watson's move is one of her first as a Goodwill Ambassador for the United Nations in her role as ambassador for "gender equality and the empowerment of women." 
Still, it's not the first time she's stood up for women via social media.
Previous highlights of Watson's impeccable Twitter work have included her tearing down of beauty ideals with an image of all the makeup it takes to make her look red carpet ready, as well as another tweet with the words "I did NOT wake up like this!"
It may be Watson's official job now to use her celebrity as a power for good in the world, but what she did should not be underrated. It seems the UN chose their newest ambassador very, very well.