A New York Hospital Is Testing a Patient for Ebola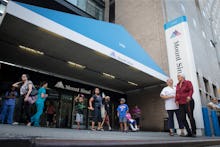 A patient at New York City's Mount Sinai Hospital is currently being tested for the Ebola virus.
Mount Sinai Hospital said in a statement that a male patient arrived at the hospital's emergency room on Monday morning complaining of a high fever and gastrointestinal problems. The patient had recently returns from a trip to a "West African country" where Ebola has been reported. The hospital says the patient was placed in "strict isolation" and is being screened for the deadly virus.
Jeremy Boal, Chief Medical Officer of the Mount Sinai Health System, told reporters that the hospital plans on working carefully with the CDC to make sure the patient does not have the deadly virus. "It's most likely a common condition," Boal said.
The New York City Health Department told reports that after consultation with CDC and Mount Sinai, "the patient is unlikely to have Ebola."
Hospital spokeswoman Dorie Klissas told the New York Times that the hospital would not make the patient's occupation, which country he had been travelled to, or whether he had been exposed to a patient with Ebola public to protect his privacy. 
"All necessary steps are being taken to ensure the safety of all patients, visitors and staff," the hospital said. "We will continue to work closely with federal, state and city health officials to address and monitor this case, keep the community informed and provide the best quality care to all of our patients."