This Is One of the Most Despicable Responses to the Gaza Crisis Yet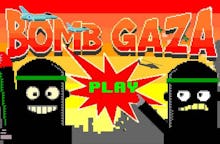 Though the game has since been taken down, the damage has been done. The game creators, PlayFTW, capitalized on a tragic reality and are facing the backlash that comes with that territory, as is Google for hosting Bomb Gaza.
The reaction: The Twitterverse has exploded with upset and turmoil while Google users are flagging the content as inappropriate and using the comment section of the game to air grievances.
Other distasteful video games are also on Google Play's platform: Gaza Assault: Code Red was also just removed. The objective of the game is similar to Bomb Gaza, this time with Israeli drones flying over Gaza that protect citizens by decimating the enemy.
Whack the Hamas is still available for download and according to their Google play description, "was inspired by the operation 'Tzuk Eitan,'" which is the Israeli name for Operation Protective Edge, Israel's current offensive against Hamas. Users have to protect civilians from the "Hamasites" coming from the tunnels.  
Additionally there's Iron Dome, the game that implores players to save under-attack Israel by intercepting Hamas rockets and Rocket Pride, whose objective is to take the Gaza Strip back from the "oppressive occupiers" by controlling missiles and hitting assigned objectives.
Pretty vile: Converting a very real and horrifying situation into a video game is commercialization at its worst. The creators and players are exploiting the fact that there is bloodshed and pain across the Gaza Strip and Israel.
A Times of Israel blogger Yochanan Gordon was lambasted for publishing and then deleting an op-ed titled "When Genocide is Permissible," which toyed with the idea that if Israel were to achieve its goal of long-term peace then mass casualties would be justified.
And in that same vein, the creators behind Bomb Gaza along with Google Play are being widely criticized for their role in creating and promoting such a shameless game. Coming under fire (figuratively, of course) is the only right thing that has been attached to this game since its inception. Shame on you Google. Shame on you PlayFTW.