You Don't Have to Be a Football Fan to Appreciate This Powerful Hall of Fame Speech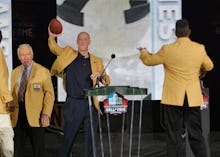 Buffalo Bills fans had something special to cheer about this weekend even though their franchise may be on the sales block.
Andre Reed, the team's legendary wide receiver, was enshrined in the Pro Football Hall of Fame in Canton, Ohio, before a capacity crowd at Fawcett Stadium. Reed's speech was nothing short of special. It began like many others: by thanking to God, his family and his many supporters. But when Reed started to talk about his teammates, he turned the speech became so touching that even non-football fans would find it special.
Reed gave longtime teammate and hall of fame quarterback Jim Kelly the most time in his speech. Sure, successful quarterback-wideout tandems often have good working relationships, but the bond between Kelly and Reed is unique. By the time they were finished playing together, they had a then-record 663 completions between them, and as teammates they made four consecutive Super Bowls. Reed described Kelly as "the toughest individual I've ever met in my life." Reed "wanted [Kelly] to be proud of [him]."
Kelly is also the why the ceremony had move from the steps of the hall to a football stadium as so many fans made drove from Buffalo for his enshrinement in 2002. But it wasn't Kelly's on-the-field success that brought the crowd to an event-stopping ovation. It was his track record of continual success in the face of grave challenges: He is undergoing treatment for his second battle with cancer, had a portion of his jaw removed and is undergoing chemotherapy to kill a tumor dangerously close to his carotid artery. Also, his 8-year-old son Hunter died of Krabbe disease, a genetic disorder that affects the nervous system.
Through his adversity, Kelly displayed the toughness that Reed described in his hall of fame speech. But the best part of the night was when Reed turned towards Kelly on the stage and caught a pass thrown by his former teammate. Their now 664 completions are not a record any longer, but this scene will be one that fans remember forever.