A Hotel Tried to Charge Guests for Negative Reviews and Totally Got What They Deserve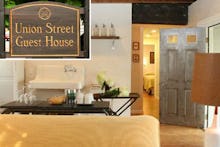 The news: A terribly misguided hotel tried to charge $500 to anyone leaving a bad review — and as pretty much anyone could have predicted, it backfired spectacularly.
The New York Post's Page Six reported that the Union Street Guest House, located in Hudson, N.Y., has an insane policy of charging wedding guests $500 for any bad review left by one of the wedding attendees.
Image Credit: Facebook
Though the absurd policy only made the news this week, this warning had been live on their website since October, 2012 — meaning the staff had left this at-best idiotically absurd warning, and at worst, moronically anti-service message for almost two years.
Here's how it went, which was pretty harsh:
"Please know that despite the fact that wedding couples love Hudson and our inn, your friends and families may not. If you have booked the inn for a wedding or other type of event ... and given us a deposit of any kind ... there will be a $500 fine that will be deducted from your deposit for every negative review ... placed on any Internet site by anyone in your party."
While a manager from the hotel says that the policy was a "tongue in cheek" joke, a 2013 Yelp review reads that hotel staff quoted the rule while threatening them financially over negative ratings.
The hotel's staff also apparently left mean-spirited comments on those reviews that did make it online, accusing guests of unrealistic expectations and making things up. On TripAdvisor, one response from the hotel started with this gem: "Wow. We are so sorry you thought we had 'attitude'."
The backlash: Thankfully, that "attitude" does not bode well on the Internet. And the people rose up against this hotel and its ridiculous policy.
The New York Post story quickly went viral, sending hundreds of readers to the hotel's Yelp site to share their "attitude." Unsurprisingly, the hotel's Yelp page now has hundreds of negative reviews and a 1.5 rating, which is sure to damage their business. One user commented that "this is the price for your arrogance," while another quipped that "We are having a North Korean wedding for a more complete denial of our guests' civil liberties." One review pointed out the obvious: "Want good reviews? Provide good service." Google users somehow managed to make it appear as if the business is permanently closed.
This image also rose to the top of Reddit:
Image Credit: Imgur
The policy has now officially been rescinded, but the damage has already been done. While the Internet and its various communities can sometimes feel like lawless bandits, sometimes there's an instance like this when a strong sense of democratic karma pulls through and fights back against terrible business practices. Good work, Internet.