FIFA President Speaks Out Against Sexism — With Even More Sexism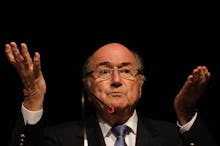 When FIFA president Sepp Blatter took the mic Monday on the eve of the Under-20 Women's World Cup in Canada, he was spared some of the toughest questions that trail him everywhere: those concerning the alleged rampant corruption in FIFA biddings and the labor rights violation in Qatar, hosts of the 2020 World Cup. But the sparsely attended press conference did get him talking about the one thing that should be most obvious at an international women's soccer tournament: Why aren't there more women in FIFA? 
When asked about what FIFA is doing to be more gender equal, not just for its players but behind the scenes as well, Blatter, far too familiar with controversial public gaffes, made an outrageously sexist statement. "Football is very macho," he said. "It's so difficult to accept [women] in the game. Not playing the game, but in the governance."
If this is his response — a mere shaking of the head and accepting and succumbing to deep-seated institutionalized gender bias — then how can he claim to be promoting equality in the sport? When the most influential man in the sport says that it's hard to accept women in soccer governance, it doesn't do the reputation of FIFA as a sexist body any good.
"It's easy in basketball, it's easy in volleyball, it's easy in athletics. It is no problem. But in football, I don't know. There's something very reluctant," Blatter went on to add about the challenges of having more women.
USA's Kelly O' Hara (R) during the gold medal match at the London Olympics. Image Credit: AP
This comparison with other sports brings to mind Blatter's infamous history of sexist remarks. A decade ago, he had said that women soccer players should wear tighter shorts to help promote the game. "Female players are pretty," he said. "Let the women play in more feminine clothes like they do in volleyball."
And even on the occasion of welcoming Burundi's Lydia Nsekera, FIFA's first full-term woman executive committee member, he remarked to the congress in Mauritius last year: "Say something, ladies! You are always speaking at home, say something now!" In the same session, he had casually introduced another co-opted board member, Australia's Moya Dodd as "good and good-looking."
Unlike those inexcusable situations of sexism and his infamous "gay fans should refrain from sexual activities in Qatar" quote, this time he gave quite the explanation for why he's not the one to blame for the lack of female representation in the soccer body.  
"If you look at the organization of FIFA, the president is elected by the congress, and all the other members of the executive by the confederations," Blatter explained. "And the confederations never would have proposed a lady."
But people aren't accepting that as an excuse to his statement. 
To be fair to Blatter, he has mentioned in the past that he'd want more women in the world governing body, but when it comes to those women going beyond the glass ceiling and making it to the executive committee, he has pleaded helplessness. "I want to give women more positions inside FIFA, although when it comes to the FIFA Executive Committee it is not easy because they are elected by national federations," he said.
He can be praised for being honest and candid about the challenge but it's far too late in his 16th year as FIFA president to applaud him for merely recognizing the problem. His responsibilities lay beyond just accepting that there's an institutionalized gender bias in FIFA's participating countries. Just like he helped in the nomination of FIFA's first female executive committee member, probably more efforts need to be initiated if he really wants to back his claim that "football is for all."