This Woman Just Made NBA History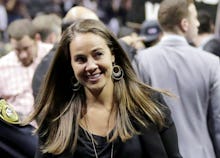 Big news from Texas: The San Antonio Spurs have hired WNBA star Becky Hammon as an assistant coach, making her the first paid female coach in NBA regular season history.
Image Credit: AP
The decision comes shortly after Natalie Nakase became the first woman to coach an NBA squad during the Summer League, where she led the Los Angeles Clippers to a 1-4 record.
Image Credit: AP
Lisa Boyer also served as an assistant for the Cleveland Cavaliers in 2001-02, but on a "volunteer" basis, making Hammon the first to be compensated for her services.
Spurs head coach Greg Popovich said of the hiring: "I very much look forward to the addition of Becky Hammon to our staff. Having observed her working with our team this past season, I'm confident her basketball IQ, work ethic and interpersonal skills will be a great benefit to the Spurs."
Image Credit: AP
Background: Hammon has been working with NBA players and coaches throughout the 2013-14 season, when Popovich learned of her interest and invited her to team practices.
The Colorado State University graduate is retiring after 16 seasons of playing for the WNBA, where she is ranked No. 7 all-time in points scored (5,809), No. 4 in assists (1,687) and No. 6 in games played (445), according to TIME.
She could not have picked a better team to join: In June, the Spurs obliterated the Miami Heat in five games en route to their fifth NBA championship since 1999.
Image Credit: AP
Yeah.
Image Credit: AP
That was brutal.
Image Credit: Lockerdome
Also: The organization is already known for eschewing conventional hiring tactics, rounding out their title-winning roster with an NBA-high seven foreign-born players, including their core of stars Tim Duncan, Tony Parker and Manu Ginobili.
Image Credit: Basketball Megastore
According to the Institute for Diversity and Ethics in Sports (TIDES), the NBA also leads all American men's professional sports leagues in gender-inclusive hiring; 41.1% of "all professional positions in the NBA league office" were held by women in 2013.
Bravo. Hammon's addition represents another landmark move for the league. Presuming the Clippers also extend an offer to Nakase, what once was anomalous could become a trend.