Elizabeth Warren Calls Out Student Loan Lenders for Their Callous Collection Practices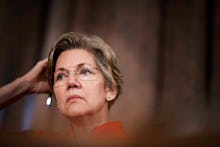 This is Lisa Mason.
Image Credit: Facebook
Lisa's parents, Steve and Darnelle Mason, experienced one of the worst tragedies imaginable: burying their 27-year-old daughter after she died of liver failure. And if that wasn't bad enough, upon her death, the bank came knocking.
According to CNN Money, Lisa was a nursing student and had taken out close to $100,000 in private student loans. When the time came to collect their money, Navient (formerly known as Sallie Mae) went after Steve because he co-signed his daughter's loans.
The debt began to pile up. Soon they were $200,000 in the hole because of high interest rates and late fees.
They found an advocate in Elizabeth Warren. Senator Warren (D-Mass.) cited the story during a Senate Banking Committee hearing on July 31.
While questioning Richard Hunt, President and CEO of the Consumer Bankers Association, Warren skewered him when he tried to deflect her questions about the Mason's situation:
"[T]he banks went out and lobbied to make sure that they were going to be exempt from the bankruptcy laws, and now they won't even provide the modest relief that is provided on federal loans for people who end up in terrible financial circumstances. I think this is wrong."
Unfortunately, the situation is all too common. CNN Money noted various cases in which banks have been less than kind to their loanees. Angela Smith from Virginia, for example, faced the same battle when her son was shot to death in 2008; the situation is still unresolved.
These circumstances apply only to private loans. Federal loans do not require repayment in the event of death. While the majority of national student debt comes from federal loans, Americans are still on the hook for $150 billion worth of private loans. And with interest rates as high as 18%, the ballooning debt — like what plagued the Masons — can happen to anybody.
Image Credit: Mother Jones
Banks shouldn't be allowed to do this. Elizabeth Warren is correct. What happened to the Masons is wrong, and it adds insult to the horrific injury they and other families like them already face.
They've raised almost $25,000 through a GoFundMe page and have had a few of their loans reduced, but they've also depleted their retirement fun. They're also responsible for Lisa's three young children (pictured at top).
What we really need, however, are more people like Warren — policymakers who have the power to propose and pass bills that will go a long way toward helping millions of Americans. Warren may be fighting for the cause, but it will take more than just her.