Watch the Bizarre Confrontation Between Two Young Immigrants, Sen. Rand Paul and Rep. Steve King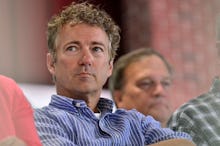 A politician, much like a prey animal, has two possible responses when confronted with an opponent: fight or flight. In an interaction with two young DREAM Act activists this week, a pair of famous Republicans managed to exemplify each.
The DREAMers, including Erika Andiola, shook hands with Sen. Rand Paul (R-Ky.) and Rep. Steve King (R-Iowa). Once Andiola mentions her immigration status, watch what happens:
King pushes back in his own strange, vaguely offensive way, saying that she's "very good at English" and asking if she's a drug smuggler. The real treat is watching Paul, at the mention of the DREAM Act, completely peace out mid-hamburger-bite. He wants no part of the discussion.
The reaction: The response was swift, with most people focusing on Paul's equally swift exit.
For a guy with potential 2016 ambitions, that didn't look like a very presidential move, did it? You can bet any Republican primary opponents are filing this clip away to use in a year or two. The guy who does scary political commercial voiceovers probably spent this morning practicing "Rand Paul chose to run away" to himself.
The reasoning: Still, Paul may have had his reasons for peacing out with a vengeance. He is a self-proclaimed champion of immigration reform (despite voting against a bipartisan immigration bill last year). He has also undertaken an anti-poverty tour that focused on traditionally non-Republican (often African American) audiences.
Paul, the thinking is, tries to have it both ways. If he can vote against the reform bill but still declare himself a pro-reform, he can avoid being pinned down with any specific attacks. A crew of DREAMers asking questions with a video camera, though, could spell trouble for that carefully curated image.
King, on the other hand, is a steadfast opponent of the DREAM Act and a big supporter of border security. He has no problem launching into the awkward dialogue you see happen. He knows where he stands, and the stakes are a bit lower.
Maybe Paul just had to run to the bathroom. Or maybe he wanted to preserve an ambiguous moderation for a presidential run. His retreat only created more questions, though, and now people aren't going to let him dash off.