A Major Tea Party Charity Just Hit a Despicable New Low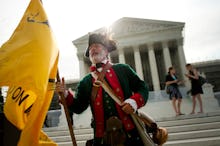 There's sickening — and then there's what the self-styled "largest grassroots pro-troop organization" has apparently been pulling for the past few years.
Move America Forward, which raises money to send packages and perform other charity work for soldiers overseas, was the subject of a ProPublica investigation, the findings of which were published on Tuesday. The findings aren't pretty.
The charity, which is backed by a major Tea Party political consultant, was found to be misleading donors and inflating its charitable accomplishments, including using photos and testimonials taken from other locations and claiming them as its own. Even worse, millions of dollars in donations were found to be funneled to political consultants rather than troops.
The findings: According to ProPublica, Move America Forward often used photos and soldier testimonials to solicit donations. While some were kosher, others weren't exactly from the group's work — a photo of a helicopter being unloaded, for instance, was a stock photograph from 2004. ProPublica traced other photos to sources like Reuters, the San Antonio Express-News and even soldiers' Flickr accounts.
Some photos and stories were stolen from other charities, ProPublica found. "The easiest way to get chocolate that will not melt to our troops in Afghanistan is with the Oreo cookies in our care packages," the charity wrote in an email featuring soldiers holding Oreo packages. The picture was actually from a project called Operation Oreo run by a Methodist church in Georgia. Another image was taken from a Wisconsin Department of Military Affairs website and cropped, with soldiers' nametags blurred out.
The falsified images are used to cover up what seems to be a lack of charity — at least at the level Move America Forward claims. After a fundraiser last year, the charity cheered that it had raised enough money to send care packages and notes to all 800 Marines in a 1st Marine Battalion nicknamed "Geronimo" currently deployed in Afghanistan. During the fundraiser, though, the Geronimo Marines were actually stationed in Okinawa, Japan, ProPublica found.
Move America Forward's chief strategist is Sal Russo, who also runs Tea Party Express, one of the largest Tea Party groups in the country. Over its past five tax returns, the charity has paid out more than $2.3 million to Russo or Russo's consulting firm — that's 30% of the charity's total expenditures during that time period.
The background: ProPublica's investigation also found that the organization very likely shares its donors' contact information with closely associated conservative political action committees. As a charity, though, Move America Forward is not legally allowed to take part in partisan endeavors.
The charity has had plenty of big-name Republican supporters, from George W. Bush and Dick Cheney to Sarah Palin, Rick Perry and Rush Limbaugh. Given these revelations, they'll probably be lending their support elsewhere very soon.