Here Are the Most and Least Friendly Cities in America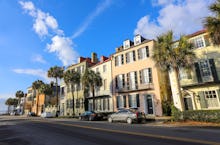 The news: Condé Nast Traveler has released the results of their 2014 Readers' Choice Survey, which polled about 80,000 web users on their experiences around the globe. Among the juiciest findings is their list of the United States' friendliest and unfriendliest cities for travelers. Southern hospitality and rural charm won the day, while dense cities tended to lose out. Here's their list, ranked from 1-100 — is your hometown on it?
The friendliest:
10. Asheville, North Carolina - 79.0
9. Nashville, Tennessee - 79.6 (tie)
9. Key West, Florida - 79.6 (tie)
7. Jackson Hole, Wyoming - 80.0
6. Fort Worth, Texas - 80.2
5. New Orleans, Louisiana - 80.4
4. Telluride, Colorado - 81.3
3. San Antonio, Texas - 82.2
2. Savannah, Georgia - 82.8
1. Charleston, South Carolina - 84.3
Friendly Charleston. Image Credit: Getty
And here are the unfriendliest:
10. Miami, Florida - 53.4
9. Wilmington, Delaware - 52.8
8. The Hamptons, New York - 50.6
7. Los Angeles, California - 48.9
6. Detroit, Michigan - 48.0
5. New Haven, Connecticut - 47.2
4. Atlantic City, New Jersey - 46.3
3. Hartford, Connecticut - 45.5
2. Oakland, California - 40.6
1. Newark, New Jersey - 33.5
Unfriendly Newark. Image Credit: Getty
The results: The South took home eight out of 10 of the friendliest cities and only one Southern metropolis, Miami, ranked in the unfriendliest ones (that's if you even consider Florida part of the South, which is highly disputed). As far as CNT's readership is concerned, the states below the Mason-Dixon line are full of charm and friendliness. The two remaining cities on the top 10 list, Jackson Hole and Telluride, are both small towns with populations in the mere thousands that boast nature-related attractions. Jackson Hole is a major gateway to Yellowstone and Grand Teton national parks, while Telluride Ski Resort is often counted among the best in the U.S.
The poll also shows that travelers generally don't find major cities anywhere near as welcoming, with a good mixture of places sometimes depicted as run-down (Detroit, New Haven, Newark) or crowded and rude (Los Angeles). Most are coastal. And poor Newark, whose Newark Liberty International Airport is the nation's most-delayed flight hub, beat second-contender Oakland by an astonishing 7.1%. In last year's survey, it was ranked as less friendly than Islamabad, Luanda and Kuwait City, which NJ.com's Mark Mueller suggested was because there's really no reason to leave the airport. New Jersey's Atlantic City was fourth on the list, which can't plausibly be blamed on travel woes — whether perception or reality, people seem to think New Jersey has an attitude problem.