Stephen Colbert Masterfully Destroys This Terrifying Children's Book Nobody Wanted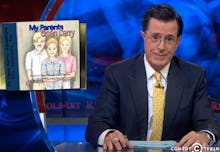 "Safe — Fun — Responsible." 
These are the words one generally thinks of when giving a child a gift that will last a lifetime. Those words take on a special resonance, however, when applied to what is sure to be this year's hottest Christmas item, the new children's book My Parents Open Carry, written by Brian G. Jeffs and Nathan Nephew an illustrated by Lorna Bergman.
The book centers around a typical Saturday in a day in the life of average white 13-year-old Brenna. What is "not so typical" about Brenna's otherwise solidy middle-American life, however, is that her parents, Bea and Richard, are proud proponents of their constitutional right to openly carry licensed firearms in public. 
"I love it...boy does it fill a vacuum!," cheers Alan Korwin of gunlaws.com on the book's promotional website. Indeed, the authors Jeffs and Nephew claim they were aiming to fill a much-needed gap in children's literature with the literary tome: 
We fear our children are being raised with a biased view of our constitution and especially in regards to the 2nd Amendment. Before writing this, we looked for pro-gun children's books and couldn't find any. Our goal was to provide a wholesome family book that reflects the views of the majority of the American people, i.e., that self-defense is a basic natural right and that firearms provide the most efficient means for that defense.
The book was originally made available in a limited release two years ago, but a mocking appearance on Bill Maher's program Real Time earlier this month caused sales of the storybook to rocket.
Stephen Colbert, ever the voracious reader and fierce advocate of the book industry (whose take down of My Parents Open Carry seller Amazon was itself epic), had quite a few thoughts on this undoubtedly soon-to-be children's classic. 
"What a beautiful bedtime story," the comedian notes. "The world is full of maniacs who want to hurt you and the police can't help ... I wish there were more firearms in children's books!"
While always humorous, Colbert's critique is spot on. Though the book may tout Brenna's generally uneventful life as "an open carry adventure," statistics prove again and again that the presence of guns does not increase safety — rather, they put people at more risk of injury. This makes sense on a pragmatic level: If a life-threatening variable is added to an equation, risk automatically increases. Or, as Ian Millhiser writes over at ThinkProgress, "research shows that lax gun laws and increased gun violence are linked."
According to a 2013 Center for American Progress report, "the 10 states with the weakest gun laws collectively have an aggregate level of gun violence that is more than twice as high—104 percent higher, in fact—than the 10 states with the strongest gun laws." Furthermore, as noted at the Huffington Post, a New York Times analysis of firearm data conducted in 2013 concluded that roughly half of children's accidental firearm deaths take place at home.
So what does all this mean? While Brenna's day of errands ends without incident, statistically speaking she is far more likely to become one of the nearly 10,000 American children killed or injured by guns each year — precisely because of the point the book so proudly celebrates.