The Reason Environmentalists Are Furious With This Famous Rugby Team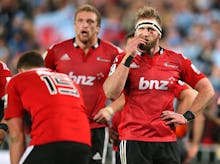 On Monday, Landmark Foundation, a South Africa based non-profit, made public the photos of Tom Taylor, Sam and George Whitelock, Ben Funnell and Tyler Bleyendaal on its Facebook page. "The sheer gratuity of the acts of these celebrity sports stars is brazen. It is an act of gratuitous killing that is socially and ethically unacceptable," Bool Smuts, director of the Landmark Foundation, told Mic.
The photos were reportedly taken in March and April when the team was playing in Johannesburg and Bloemfontein. The four photos are a horrifying sight in which the players from the seven-time Super Rugby champions can be seen gleaming, posing next to the dead animals and touching their long horns as a sign of showcasing their rare conquest. In one photo, a player is posing with blood on his face holding a gun and smiling next to a dead blesbok. The pictures show that a zebra, a gemsbok and an eland were also killed.
Image credit (all three): Facebook
What's more astonishing is that even after these highly objectionable and offensive recreational hunting pictures came to light, the Christchurch-based team's chief executive Hamish Riach tried to justify what the players did. 
"They've chosen to have a perfectly legal hunting expedition and they've done everything right. They haven't hunted endangered species, they haven't poached, they haven't used an unlicensed guide," Riach said. 
"The act may be legal, but it is utterly unethical and ecologically damaging," Smuts added. "The hunting focus on trophy animals causes wide-scale social disruptions on wildlife populations and are resulting in artificial species selection impacts."
Unlike Riach, who doesn't seem to be bothered by the players' hunting, L'Oreal had quickly disassociated itself with Axelle Despiegelaere, the 17-year-old fan that it signed for a shoot during the Brazil World Cup. Despiegelaere had posted a photo of her posing with a dead oryx, captioned: 
Riach, on the other hand, goes on to portray the players as victims, saying they are being targeted because of their profile and status. "These guys are being used because of their profile and the prominence they might have in the public sense."
He compares people's divided views on hunting with those about vegetarianism and drinking alcohol. 
"Our guys are perfectly able to hunt in their own time and some one is perfectly able to express concern about that," he told Sydney Morning Herald. "Vegetarians might be concerned they had bacon and eggs for breakfast, or a teetotaler might be concerned they have a drink from time to time".
But the environmentalists at the Landmark Foundation are definitely not buying that and challenge the "trophy hunting" trend of killing wildlife. "It demonstrates utter disrespect to the individual animal to pose in a scrum over the dead body of the animal," Smuts said. "It was not killed for any nutritive purpose, but purely for the joy of killing the animal."
The pictures have outraged many fans and could affect sponsorships for the team, which recently lost the Super Rugby grand final 33-32 to the NSW Waratahs.