15 Fantastic Art-Filled Cities That Aren't New York or Paris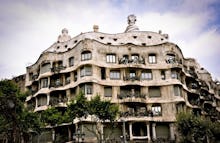 This summer, the Art Everywhere initiative is replacing eyesore ads with fine art, turning New York City into an open-air art museum. Meanwhile, artists with the Water Tank Project are covering up those old water tanks on top of buildings with their creations. Across the pond, Paris is gearing up for the fall, when the Jeff Koons retrospective will arrive at the Centre Pompidou and the Picasso Museum will reopen. And of course, that just skims the surface.
But these two art-filled and art-famous cities are not the only metropolises with incredible creativity. Much more is happening in artsy enclaves all over the world. From Berlin to Hong Kong, these 15 art-filled cities have enough to excite culture-hungry travelers and artsy locals alike.
1. Porto, Portugal
Porto may be a bit off the beaten path, but this small Portuguese city has a ton of gorgeous art to discover. Even the São Bento train station is a work of art, decorated with 20,000 tin-glazed blue and white ceramic tiles. The mural by artist Jorge Colaço took 14 years to complete. The Casa da Música, designed by Rem Koolhaas, pays homage to traditional Portuguese tiles, and is a beautiful place to take in a concert. 
2. Berlin, Germany
It's no secret that Berlin enjoys one of the most active art scenes in the world. The city has a long and vibrant history of supporting the arts, with the Museuminsel (Museum Island), a UNESCO World Heritage site comprising five museums built between 1824 and 1930; the Bauhaus-Archiv Museum, dedicated to the 20th-century school of art and architecture; and the Neue Nationalgalerie, designed by Mies van der Rohe. Berlin counts 20,000 international artists as its residents and organizes many city-wide art events, like Gallery Weekend and Berlin Art Week. A large concentration of galleries can be found around the Mitte, Kreuzburg and Schönburg districts.
3. Montreal, Canada
Montreal prides itself on its vibrant art scene. Art is all over the city — in museums and galleries, outside on the street, and in the subway. All of Montreal's 68 subway stations contain public art. (The cost of the art is actually included in the budget for new stations.) One of Montreal's art hotspots, the Belgo Building, is hidden in plain sight. Bypass the souvenir shops and fast food chains and head inside to discover some of the city's best art galleries and workshops. 
4. London, England
London is home to some of the world's greatest art museums, from the renowned British Museum to the Tate Modern. The scene in London tends to lean toward the power players, and in the past several years, many of New York's highest-grossing galleries — Gagosian, David Zwirner and Pace, to name a few — have made their way across the pond. But that's not to diminish the English capital's own art world power. The Turner Prize, the world's most prestigious art prize, is awarded to a contemporary artist by the Tate every year, and it can make an artist's career. 
5. Los Angeles, Calif.
When you think of Los Angeles, Hollywood probably comes to mind, but L.A. has a well established fine art scene too. Among art schools in the U.S., UCLA and Cal Arts in nearby Valencia both rank in the top 10, according to the U.S. News & World Report. L.A. also boasts some of the country's best art museums, including LACMA and the Getty. Culver City is a bastion of blue chip galleries, plus some offbeat finds like the Museum of Jurassic Technology, and downtown L.A. is witnessing a major renaissance. "It's just a great place to live with a lot of resources and good weather aplenty," L.A.-based sculptor David Wiseman told Mic, adding that "people have always moved out West to do their own thing." 
6. Florence, Italy
For art historians and lovers of Renaissance art, few cities in the world rival Florence. The city itself is like an open-air museum, with marble statues standing proudly in the piazzas and frescoes inside many public buildings and churches. Florence boasts museums with some of the greatest works of art ever made. The Uffizi Gallery houses Botticelli's Birth of Venus and the Accademia is home to Michelangelo's monumental sculpture of David. Avoid the hordes of tourists by taking advantage of the Uffizi's late closing time (9 p.m.) on Tuesdays and Fridays.
7. Rotterdam, Netherlands
When it comes to the Netherlands, Amsterdam usually steals the spotlight, but nearby Rotterdam has an innovative, artsy spirit too. During World War II, the city was razed by bombs, leaving Rotterdammers to rebuild after the war. Rather than try to recreate what once was, they used the urban streetscape like a blank canvas, creating avant-garde architecture, like Erasmus Bridge and the bright yellow cube houses by Piet Blom. The Museum Boijmans van Beuningen showcases paintings by Van Gogh, Monet and Degas, plus works by contemporary artists like Maurizio Cattelan. The Art Rotterdam fair provides a platform to discover young Rotterdam artists.
8. Chicago, Ill.
The Art Institute of Chicago, one of the largest and most important art museums in the U.S., draws 1.5 million visitors annually and is home to around 300,000 works of art. Outside the walls of the AIC, there is plenty of public art in the form of murals, especially in the South Side neighborhood of Hyde Park, and monumental sculptures by the likes of Picasso and Anish Kapoor. Where do you find the galleries? The South Side neighborhoods of Pilsen, Bridgeport and Hyde Park boast dozens of them.
9. Barcelona, Spain
Avant-garde architect Antoni Gaudí's influence lends this Spanish city a distinctly whimsical, artistic air. Any visit to Barcelona would be incomplete without a trip to his Park Güell, full of colorful mosaics, fantastical towers and bewitching caves. Several of the houses he designed are now museums, including Casa Milà, Casa Batlló and Casa Vincens. The Picasso Museum draws plenty of art-lovers as well. But the city's more recent contributions to the art world, like CaixaForum, are worth checking out too. 
10. São Paulo, Brazil
Brazil legalized street art in 2009, and since then both Rio de Janeiro and São Paulo have seen a spike in their contemporary art scenes. Of the two cities, São Paulo is larger in population and has more important cultural institutions, like the Museu de Arte de São Paulo and the Fundação Maria Luisa e Oscar Americano, which houses 17th-century paintings and 18th-century furniture in a mid-century modernist building. Artists here benefit from a famed relaxed lifestyle and entrepreneurial spirit.
11. Mexico City, Mexico
Over the past few years, Mexico City has witnessed a revival of the art scene unprecedented since the time of Frida Kahlo and Diego Rivera. Pay homage to their legacy with a visit to the Casa Azul (Kahlo's house) and see Rivera's murals in the Palacio Nacional, the Museo Nacional de Arte and the Museo Dolores Olmedo.
Today, contemporary artists are taking up their torch. Find them in the Nuevo Polanco neighborhood at the Museo Jumex, considered one of the best collections of contemporary art in Latin America. The annual Zona Maco art fair brings art-lovers to Mexico City in droves. In 2013, attendance soared to 40,000.
12. Glasgow, Scotland
Though this post-industrial Scottish city doesn't have the major galleries and collectors that London does, a community of artists thrives in Glasgow. The Glasgow School of Art draws students from around the world, offering the studio space, talented instructors and supportive community that artists thrive on. This year, three out of four nominees of the Turner Prize were Glaswegian. From Douglas Gordon, whose work shows widely in the international art sphere, including at New York City's MoMA, to Turner Prize nominee Duncan Campbell, who represented Scotland at the Venice Biennale, Glasgow's artists deserve to be watched.
13. Marseille, France
Though less revered than Paris, the French city of Marseille has long been a haven for avant-garde artists. Cézanne and Renoir lived and painted here, and Matisse lived in the nearby city of Nice. Marseille has some fantastic art museums, like the Musée des Beaux-Arts and the Musée d'Art Contemporain. The city's artistic legacy is not all in the past, though. In 2013, Marseille was named the Cultural Capital of Europe, thanks to initiatives like the MAMO (Marseille Modulor), built on the top of Le Corbusier's Cité Radieuse. 
14. Buenos Aires, Argentina
The tango capital of the world doesn't disappoint when it comes to the arts. San Telmo, known for its many tango clubs, features brightly colored buildings and murals that pop, though it caters more to tourists than Argentines. Fundación Proa, housed in a 19th-century house in La Boca, is a must-see contemporary art center. Alan Faena, whose Faena Hotel and Universe, designed by Philippe Starck, is a design icon in the city, also founded the Faena Arts Center in 2011. But to find BA's most authentic art scene, head to Palermo, where hip young artists prowl the bars and dance until sunrise. 
15. Hong Kong
In 2013, Art Basel added Hong Kong to its roster, bringing the attention of the Western art world along with it. Like London, Hong Kong's art market is dominated by Western galleries, namely the British White Cube gallery, plus American giants Gagosian and Pace. Yet, as told by the New York Times, Hong Kong is beginning to foster more of a local art scene by bringing emerging Chinese artists into the folds of its major fairs. Many young artists live in lofts and have their studios in old warehouses in Chai Wan Mei.