One Absurd Statistic Shows Just How Bad Hollywood's Latino Problem Is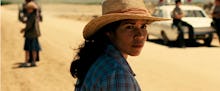 Over the last few years, Hollywood has shown marginal progress when it comes to depicting minority groups onscreen. In 2013, a banner year for black cinema, films like 12 Years a Slave, Lee Daniels' The Butler, and The Best Man Holiday won awards and found box office success. Likewise, studio executives seem to finally be getting the message on Hollywood's women problem, updating some of their most cherished franchises like Ghostbusters and Spider-Man to be more female-centric.
But while Hollywood should be praised for taking these steps to ensure that our culture reflects our society's best values, there is still plenty of room for improvement. A new study on diversity in cinema from the University of Southern California draws attention to another minority group that often gets overlooked in the struggle for proportionate representation in pop culture, particularly when it comes to acting: Latinos.
According to the study, from 2007 to 2013, only 4.9% of speaking parts in top-grossing American films were given to Latino actors, despite the fact that Latinos make up 16% of the U.S. population and a whopping 25% of movie ticket sales. This was the largest disparity among any ethnic or racial group, and one of the study's authors characterized Latinos as being "almost invisible" onscreen.
Even more alarming is that, when Latino actors are cast, they are by far more likely than any other group to be sexualized, either by revealing clothing or by being defined in the screenplay as attractive. Indeed, 36% of Hispanic actors are displayed in some sort of sexualized attire, the highest of any group looked at in the study. Hollywood seems to think America is not interested in stories about Latinos, unless they are taking their clothes off.
Eva Mendes in The Women. Image Credit: Tumblr
The statistics also refute the idea — often put forth in conservative circles — that Hollywood is more progressive than the rest of the country. The truth is that the movie industry has chosen the path of least resistance by keeping Latino characters on the margins of their stories or by overlooking them all together. When they do feature Latino actors, they far too often objectify them. Rosario Dawson, Jessica Alba and Eva Mendes are successful actresses by any standards, but Hollywood has a bad habit of reducing them to eye candy. Alba's striptease in Sin City was a big part of its success (the film's strong DVD sales convinced The Weinstein Company to finance a sequel).
The same could be said of Danny Trejo, an unlikely star who achieved the high watermark of celebrity by playing himself in a cameo in Muppets Most Wanted. Trejo is, of course, known for his angry scowl and hulking body more than his ability to create complex, well-rounded characters.
Image Credit: Getty Images
There are, of course, notable exceptions. Earlier this year, Michael Pena (End of Watch, Crash) played the iconic farm labor union hero in Cesar Chavez, a film directed by Mexican actor Diego Luna. Last year, Instructions Not Included, a film that was virtually ignored by critics, quietly became the highest-grossing Spanish-language film in history. Neither film relied on the sex appeal of their stars, and notably, neither film was the product of the Hollywood system. Both were made by Mexican companies, and the costs of getting them into theaters were split between Mexican and American distributors.
If we want more films that grapple with the Latino experience without resorting to titillation, it may be that we cannot turn to Hollywood. Their reluctance may stem from the way our country is so culturally divided. They risk alienating a large portion of the potential audience by confronting them with something they are not ready for. Latinos attend movie theaters in record numbers. But with Congress mired in gridlock on immigration reform, Hollywood has the opportunity to lead. If politics is downstream of culture, it may be our only way forward.