Striking Statistics Prove Miami Heat Fans Really Are the Bandwagoners We Thought They Were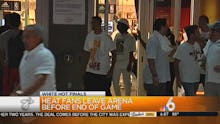 One widely held belief in the basketball community is that the Miami Heat fanbase is comprised exclusively of bandwagon fans, the majority of whom materialized from thin air after LeBron James arrived with Chris Bosh to team up with Dwyane Wade in 2010.
Well, that's not entirely true given how many Harold Miner throwback jerseys are out there, but the reputation is not without merit. Interestingly, LeBron has returned to Cleveland, so the Miami New Times ran an op-ed — "Five Reasons Miami Heat Fans Deserve More Respect" — arguing against these accusations.
Instead of brushing them aside, let's take a look at the reasons listed and why they don't hold up.
The author starts by pointing out that the Boston Celtics — an example he confessed to cherry-picking — had the following attendance trend during a four-year stretch:
2005-06: 16,899 (18th in the NBA)
2006-07: 16,843 (20th in the NBA)
2007-08: 18,624 (12th in the NBA)
2008-09: 18,624 (12th in the NBA)
The spike in turnout, of course, coincided with the acquisition of Kevin Garnett and Ray Allen. The argument is that the Celtics only managed to jump to 12th in attendance, which means Boston couldn't even crack the top 10.
Not sure where to begin here, but we can debunk the argument with one fact: basketball arenas have varying seating capacities. The TD Garden in Boston for example, can hold 18,624 people. The United Center in Chicago, can hold 21,711. So if both arenas sold out for an entire year, Boston would still trail Chicago in average attendance no matter what.
In 2009, Chicago ranked second in average attendance, partly due to its larger arena. It would have been better to examine attendance per game as a percentage of capacity, which can be easily be sorted on ESPN.com. Using this more revealing metric, the Celtics were in fact third overall in league attendance in 2008-09.
The author's point is pretty flimsy, but worst, it's based on an incorrect statistical evaluation.
Secondly, the author estimates that only around 500 to 1,000 people left the arena early in Game 6 of the 2013 NBA Finals against the Spurs, when Ray Allen hit a miraculous 3-pointer to send the game to overtime, where the Heat prevailed and eventually won the title in Game 7.
Hell, call it 1,000 — that's still 5 percent, which is about the same number of fans you might find taking a dump at any given moment during an NBA game. It's a slippery slope pointing out the shady actions of the lower 5 percent of your fan base.
We're hesitant to agree with the writer just because of the way the argument is framed. Given the deficit the Heat were facing in the last minute of that game, elimination was pretty much all but assured, unless something out of this world happened. It did. Aside from Allen's three, there were rebounds that the Spurs could have secured on the last two possessions in regulation that would have sealed the game, not to mention free throws which would have made it a two-possession game.
So, as much as we like to poke fun at Heat fans for arriving late and leaving early, any rational basketball fan would tell you their team's season was over with a minute left in the game. Given, Heat fans may have been rushing to other plans they had, or because they didn't want to watch San Antonio celebrate.
Either way ... not a good look.
Next, the author compares Cavaliers' attendance for games with LeBron and without. The drop-off apparently means they're also front-runners. Attendance dropped for Cleveland after LeBron left, which is understandable given how successful LeBron's teams were, and because of his ties to Akron, OH.
We're just not sure how this explains the Heat aren't bandwagon jumpers.
The writer closes out with arguments about ticket sales and statistics from a sports fan loyalty index, along with this classic quote, "Once again, you just notice the empty seats at the beginning of Heat games because they are always broadcast on television."
Here's the thing: Just like any fan base, there are good and bad fans. Acquiring LeBron would lure a lot of new basketball fans to the arena, and some of them may have a lifestyle that precludes them from arriving at the game on time. There is nothing unique about Heat fans in this respect.
As basketball fans, a lot of us feel as though LeBron — clearly the best player in the world — deserves to be in a market where he's truly appreciated, whether it's as the hometown hero in Cleveland, one of the most miserable sports towns (actually, maybe the most miserable) in North America — or another rabid fan base known for making their arenas an intimidating place to play in.
The Heat fanbase were always at a disadvantage because of these things, and because LeBron chose to leave home and pick somewhere else that didn't feel like a basketball destination. If he had chosen New York or Chicago, both considered basketball towns with richer traditions and more knowledgeable fanbase, we wouldn't even be discussing this.
Heat fans are perceived a bit too negatively, and there's an argument to be made in favor of Miamians as dedicated sports fans. Unfortunately, this wasn't the article to make those arguments.